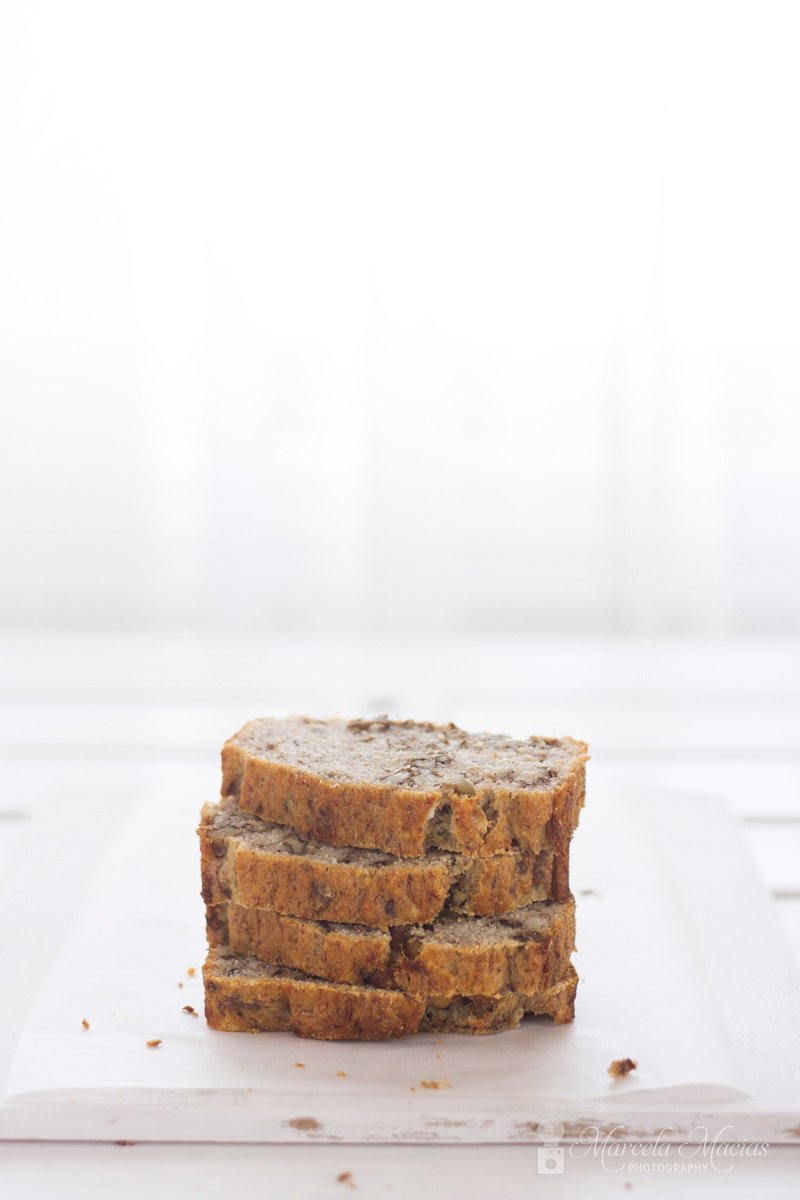 Today was a crazy day.
You know, those days when you plan to do this one thing and be finished by 10 am and then life gets in the way and suddenly it's 10 pm and the one little thing is still lingering in your to do list and you could almost swear that it's giving you the look and  saying " Hey, weren't you supposed to take care of me 12 hours ago?"
 Today was one of those days and this blog post is that one little thing.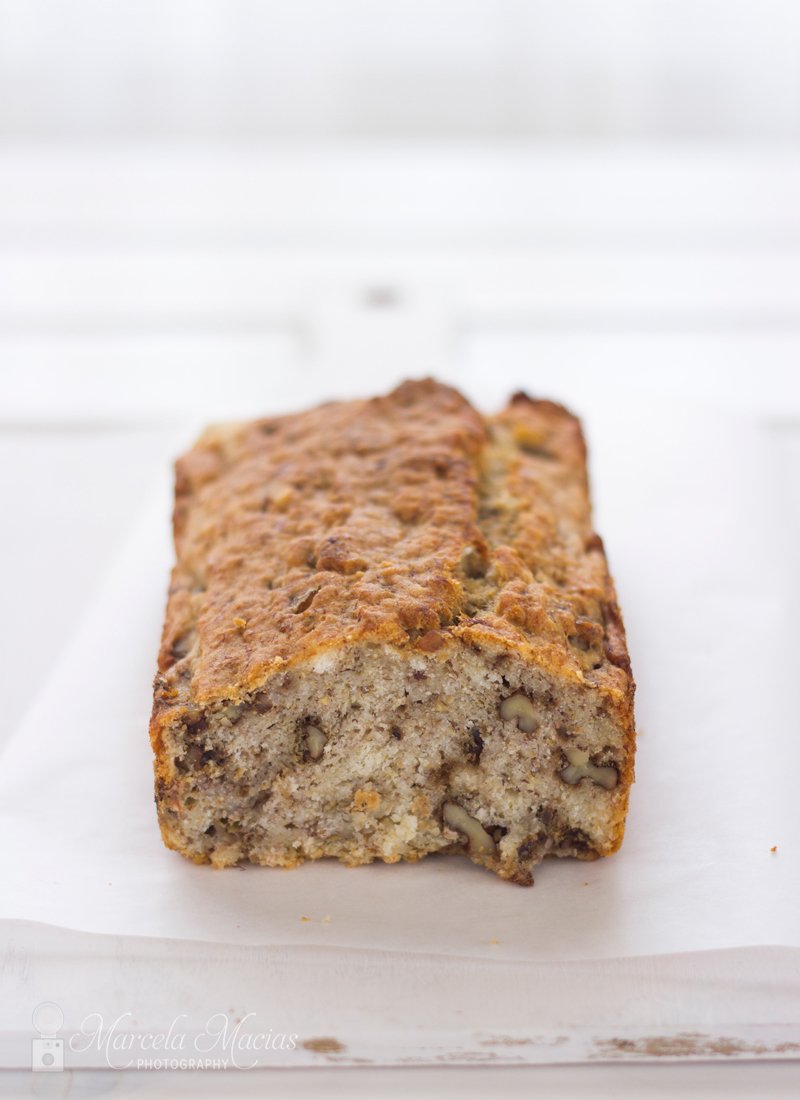 I had baked this banana bread early in the morning, and let it to cool down while I prepared my studio. I don't know whether I had mentioned this before, but I have a mobile studio, that, due to lack of space, I set up here and there so it takes a while and a few trips back and forth to the kitchen until everything is quite like I like it. So today, I followed my routine and when  I was just getting ready to start shooting, the phone started ringing, someone knocked at the door, the cat jumped on the table, the kids had a fight…and a 15 minutes photo shoot took 2 hours.
It's life, it happens.
I took the pictures. I downloaded them to my computer.I edited them.
And then my website crashed.
I called the host, I tried to access it a million times, I wrote the post in word, I checked again and again and again and nothing. Until 9pm.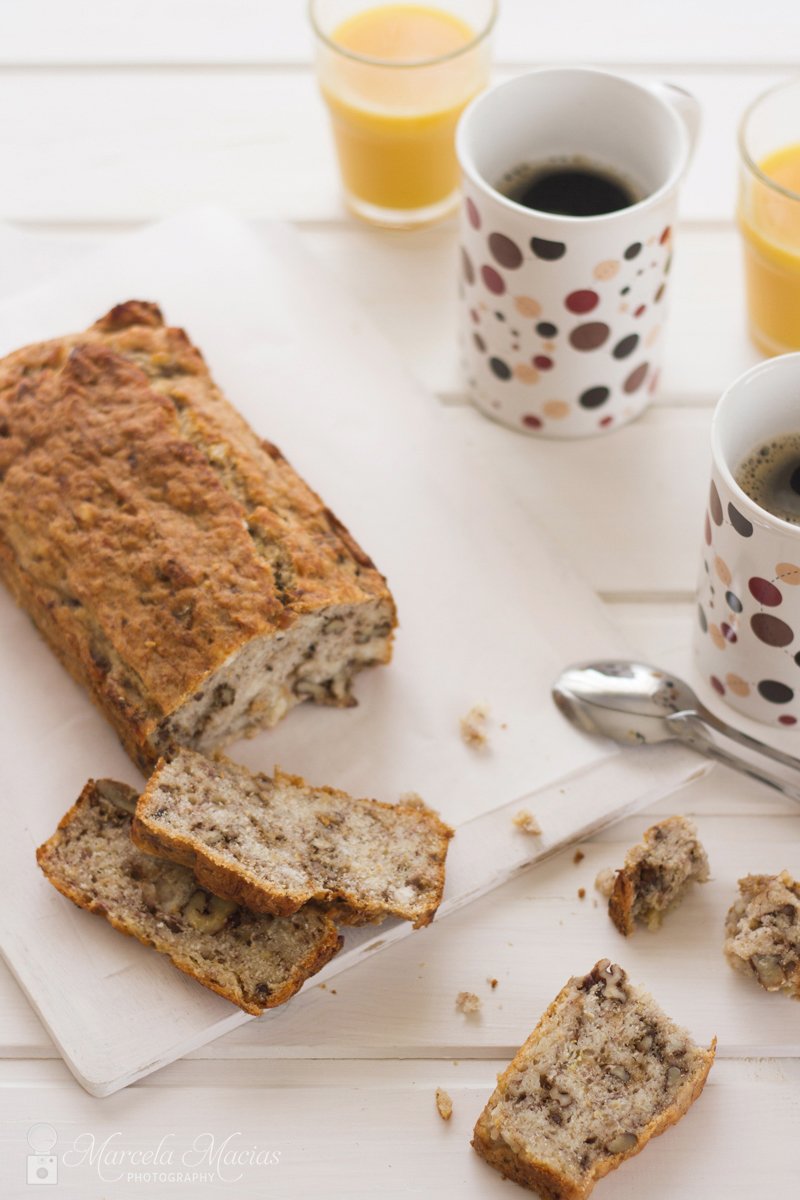 So, with a little bit of delay, and the patience to accept that which I cannot control, here's the recipe!
Banana walnut bread

Ingredients: 3 tablespoons ground flax seeds, 9 tablespoons of water, 1/2 cup coconut oil, 1/4 cup vegetable milk (soy, almond, rice, oat-whichever is your favorite),  1/2 cup barley flour (or other gluten free flour), 1 tablespoon baking powder, 3 ripe bananas, 3/4 cup walnuts (coarsely chopped).

Preparation:

1)Pre-heat the oven to 180C-375 F. Grease a loaf pan and set aside.

2) Mix ground flaxseeds with water and set aside for a few minutes, to let them integrate

3) Mix seeds, oil and milk and whisk until smooth.

4) Sift flour and baking powder and add to the liquid ingredients.

5) Mash the bananas and add them to the rest of the preparation, together with the walnuts

6) Pour the dough into the loaf pan, smoothing the top with the back of a spoon, and place it in the oven for about 45 minutes (or until a stick comes out clean when inserted in the middle)

7) Remove the loaf from the oven, let it cool for 10 minutes, then invert into a wire rack for it to cool down completely.
Have you had crazy days like this? Let me know in the comments below!
 
One more important thing before you go!
My friend Denise Duffield-Thomas of Lucky Bitch has just released a crazy mega bundle of her newest manifesting tools.
Denise is a money coach, and she is amazing. I bought her book, Get Rich Lucky Bitch last January and I had so many A-HA moments while reading it that I enrolled in her bootcamp too.
Her new bundle of products is absolutely great- and you know by now that I never recommend anything that I don't absolutely love because I value your trust more than anything.
So, if you are interested, check the bundle out HERE * (Update: the bundle is not longer being offered, but you can still get these resources HERE, as well as her Lucky Bitch Money Bootcamp)
But hurry up because the sale ends midnight EST on Friday. Denise won't be repeating this, so it's a great chance to get a bargain!
PS: Denise also has some amazing FREE resources  that you can check out first:
The free resources require subscription (it's totally worth it!). You can also check
Denise's blog HERE.
____________________
*Yes, it's an affiliate link