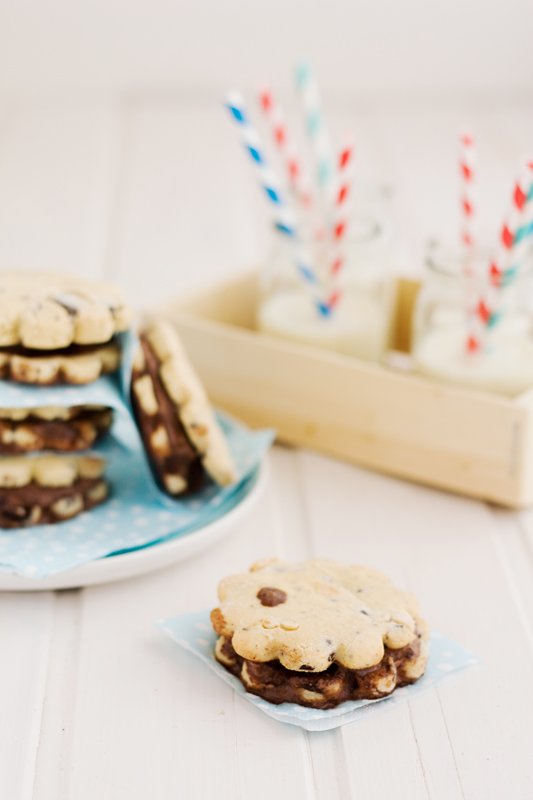 Summer is for ice cream, don't you think? And how about ice cream sandwiches, aren't they yumminess to the chore? Don't they bring memories of  childhood, leisurely days , friends and bikes,  and ice creams trucks in the park? I thought so too, and this is why I decided to bring you a delicious ice cream sandwich recipe, that is also gluten free and dairy free, for you to enjoy like you used to when you were a child.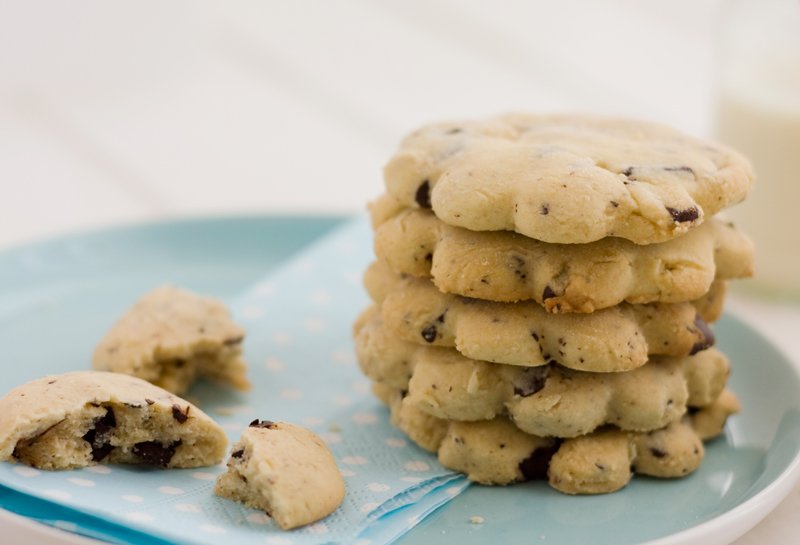 These ice cream sandwiches are made of delicious gluten free and dairy free chocolate chip cookiesand vegan chocolate ice cream (dairy free and egg free)  because I believe that food allergies shouldn't stop us from eating tasty treats.
The cookies were adapted from a shortbread cookie  recipe by  Aran Goyoaga that appears in her book Small Plates and Sweet Treats. I modified the flour combination that she uses because I didn't have the same ones, and I added big chunks of chocolate that add a little crunchiness to the sandwiches.
Do you want the recipe? Here it is:
Gluten free and dairy free ice cream sandwich recipe

1) Make the Gluten free & Dairy Free chocolate chunks cookies

Ingredients: 110 grs of vegan margarine, 1 cup/200 grs caster sugar, 2 teaspoons vanilla extract, 1 medium size egg, 1/2 cup cornstarch, 1 cup/115 grs almond flour (I used processed almonds), 1 1/4 cup/ 175 grs rice flour (plus a little bit more to dust the counter), 1/2 teaspoon salt, 100 grs chocolate (70%), cut in chunks, or chocolate chip cookies.

Preparation: 

1) Beat margarine and sugar for 2 minutes.  It is very important not to overbeat margarine or the cookies will turn out oily, so just incorporate both ingredients well and make sure the resulting cream has some fluffiness but don't continue further than that.

2) Scrape the sides of the bowl, add vanilla and eggs and beat well, until fully incorporated.

3) In a different bowl, mix the dry ingredients and add them to the margarine cream in three times, mixing well and scraping the sides of the bowl after every addition. Again, don't over mix or the dough will be too soft. Add the chocolate chunks or chips and incorporate them into the dough.

4) Wrap the foil in plastic and put it in the refrigerator for one hour. These cookies freeze very well, so if you can make the dough ahead of time, freeze it and bake the cookies at a later date.

5) Dust the counter with rice flour, remove the dough from the refrigerator, extend it with a rolling pin and cut the cookies with the desired shape. I made medium size flowers, but you could also try with a simple circle or square cookie cutter.

6) Place the cookies on a baking tray lined with baking paper and bake for 10-15 minutes, until barely golden on top. Remove from the oven and let them cool down.

2) Make the Chocolate coconut ice cream

Ingredients: 2 cans of 400 ml of coconut milk, 1 cup sugar, 1/2 cup cocoa

Preparation: 

1) Put all the ingredients in a saucepan, and bring to the heat, stirring all the time with a wooden spoon until it slightly thickens (very slightly). This will help dissolve well all pieces of coconut and cocoa and ensure that the ice cream turns out smooth.

2) Place the chocolate coconut milk in a container with a lid and put it in the refrigerator for at least 8 hours

3) Remove the milk from the refrigerator, and churn it in your ice cream maker according to the manufacturer's instructions. I use the KitchenAid ice cream attachment, with which it takes 15/20 minutes for the ice cream to be ready.

4) Once the ice cream is ready, place it in the freezer for 2 hours for it to reach scoop consistency.

3) Assemble the ice cream sandwiches

1) Put a scoop of ice cream between two cookies, and place the sandwiches on a tray

2) Place the tray in the freezer until the ice cream hardens (or it will melt too soon!).

3) Serve, or store in the freezer in an airtight container.
Did you like this recipe?
If you did, share it with your friends using the social media buttons below and subscribe to my newsletter for more yumminess delivered right into your inbox!