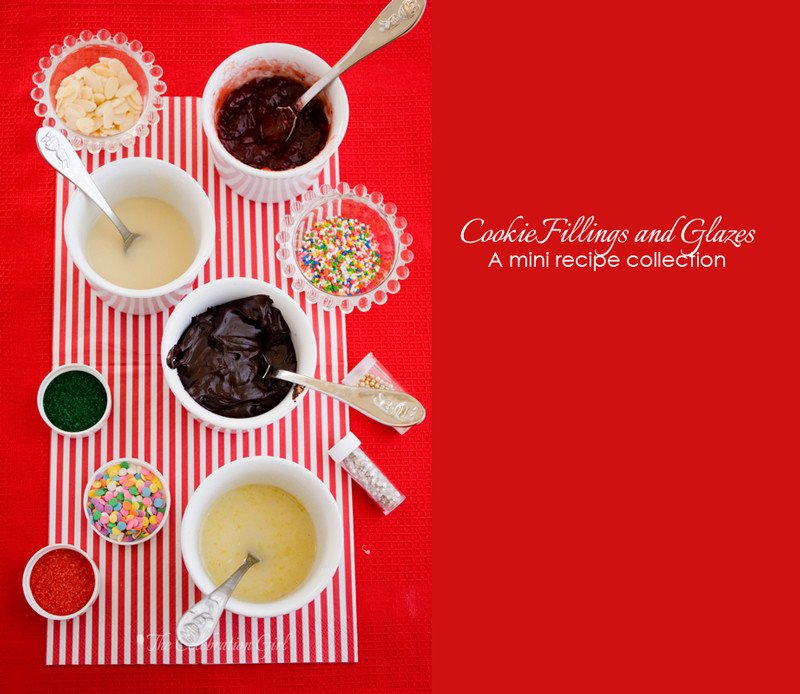 Good morning dear friends! Day 6 of the advent, almost 1 week into the season already and the weekend is almost here!
Today's post is, in fact, the first part of a longer post that will be completed tomorrow, when we continue playing with the cookies we made before . These are some of the recipes I will be using and, for brevity sake and not to make one post super long, I thought it better to divide it in two. So, here are some of my favorite glazes and fillings to go with the cookie doughs I shared with you on Day 3.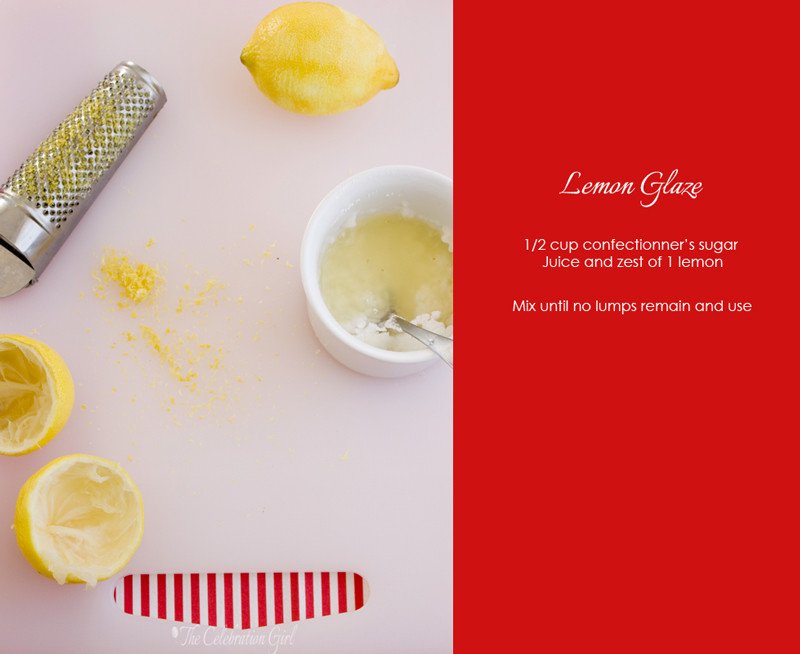 I also like to glaze my cookies with an orange glaze. In order to make it, use juice and zest of an orange instead of that of a lemon, in the same quantities and in the recipe above.
When I want to make a more traditional unflavored sugar Sugar glaze, I mix 1/2 cup confectioner's sugar, 1 tablespoon warm water, 1 teaspoon of golden syrup and  1 teaspoon vegetable oil until no lumps remain. Traditionally this glaze uses melted butter but, as I have mentioned before, I prefer to skip using dairy as much as possible due to my son's mild intolerance.
This a great filling, especially for almond or hazelnut shortbread cookies. There is something about pairing nuts and chocolate that is just heavenly perfect. I use coconut cream when I want to make a dairy free version, keeping the quantities stable.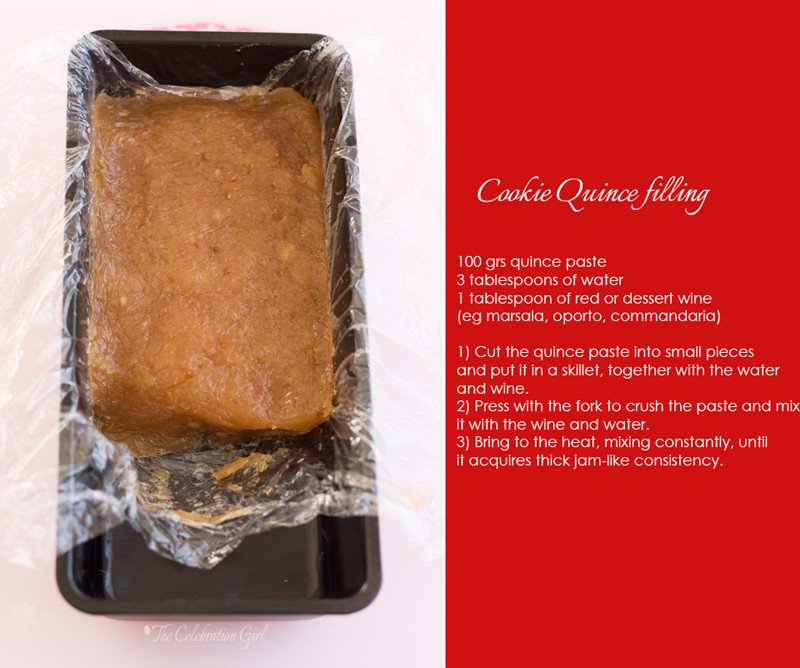 Quince paste or "Dulce de Membrillo", as we call it back home, is a staple food in most Argentinian homes (or at least it was in mine when I was growing up), but outside of Argentina it isn't that easy to find. A friend of my mother's recently shared with me this wonderful recipe and I put it in use, taking advantage of quince season, with the idea of making the famous pastafrola. However, when I thought about fillings for the advent's cookies, I realized that quince paste would make a wonderful one. I gave it the necessary jam-like consistency using the same method I use for making pastafrola's filling (quantities vary, though). Here you have it:
So, get those fillings and glazes ready, because we will be using them tomorrow!
What are your favourite sugar cookie fillings and glazes?
Con sabor latino…

Buenos días queridos amigos!  Es el 6to día del adviento, ya ha transcurrido casi una semana de la temporada festiva y el fin de semana nos pisa los talones.

El post de hoy es, en realidad, la primera parte de un post más largo que completaré mañana, cuando continuaremos jugando con las galletitas que horneamos anteriormente. Estas recetas son algunas de las que usaré mañana, así que para no hacer un solo post larguísimo, decidí dividirlo en dos. Aquí tienen, entonces, algunos de mis rellenos y baños favoritos para las galletas que compartí con ustedes el 3er día del adviento:

1) Glaseado de limón: Mezclar 1/2 taza de azucar impalpable con el jugo y la ralladura de 1 limón, revolviendo bien hasta que no queden grumos.

2) Glaseado de naranja: Mezclar 1/2 taza de azucar impalplable con el jugo y la ralladura de una naranja. Revolver bien hasta que no queden grumos.

3) Glaseado de azucar: Mezclar 1/2 taza de azucar impalplable con 1 cucharada de agua caliente, 1 cucharadita de  golden syrup (azucar invertido) o syrup de maiz y una cucharadita de aceite vegetal, revolviendo hasta que no quede ningun grumo. Tradicionalmente, esta receta lleva manteca pero yo uso aceite a causa de la leve intolerancia a los lacteos de mi hijo.

4) Relleno de crema de chocolate: Colocar 60 grs de chocolate amargo en un bowl. Llevar 1/3 de taza de crema de leche al fuego, retirar cuando rompa el hervor y verter sobre el chocolate, dejando que éste se disuelva. Una vez casi completamente disuelto, batir vigorosamente hasta obtener una crema. Agregar 2/3 tazas de azucar impalpable y mezclar bien, hasta que no queden grumos. Si quieren hacerla sin lacteos, reemplacen la crema de leche por crema de coco.

5) Dulce de membrillo casero: Lavar y cepillar 2 membrillos y colocarlos en una olla con agua hirviendo durante 10 minutos. Retirar, dejar enfriar, pelar y procesar. Pesar la pasta resultante, que tiene que dar aproximadamente 500 grs. Agregar  400 gramos de azucar granulada comun (si es menos o mas, ajustar la cantidad proporcionalmente), cubrir con papel film y dejar reposar toda la noche. Al día siguiente, colocar en una olla de hierro, tipo Le creuset o essen, y llevar a fuego  revolviendo constantemente con cuchara de madera hasta que la pasta se desprenda del fondo y de los bordes. Cubrir un molde de budin con papel film, verter dentro la pasta de membrillo, apretando con una cuchara para que quede compacta. Cubrir la pasta con papel film, bien al ras y asegurandose que no queden burbujas de aire. Dejar reposar en la heladera.

6) Pasta jalea de membrillo (para rellenar galletitas): Cortar 100 grs de membrillo en trozos y colocar en una sarten, junto con 3 cucharadas de agua y 1 cucharada de vino tinto o de postre. Pisar con tenedor para ablandar la pasta e integrarla con los líquidos. LLevar a fuego, pisando y revolviendo constantemente, hasta que adopte una consistencia de mermelada bien espesa.

Ya lo saben: vayan preparando estos rellenos y glaseados, que mañana comenzaremos a usarlos!

Y de paso, cuentenme, cuales son sus preferidos?