Good morning dear friends!
Today I bring you another recipe from Circulo Whole Kitchen. As I mentioned in my post from last week, this month I started participating in the  culinary challenges proposed by Whole Kitchen Magazine, and their sweet suggestion for May 2012 was the ultra popular zebra cake.
The zebra cake is, basically, a vanilla and chocolate cake, marbled  to resemble the stripes of a zebra. This is achieved by putting the batter in the pan one or two  spoons at a time, alternating colours. When looked from the top, the cake looks like a succession of circles, but when cut in slices, the zebra stripes appear, making it an instant hit with children- and with adults!
In this occasion, I used the recipe provided to us by Whole Kitchen and followed the directions exactly, because I am always happy to try ones, but know that since the effect is mainly visual, you can simply use your favourite vanilla cake recipe, divide the batter in two, add two tablespoons of cocoa (I prefer dark cocoa) to one half, and go ahead with the method for placing the batter in the pan, as you would with this one.  And you could even use a boxed cake or change flavours and colours!
This recipe is a very nice one, though, and I encourage you to try it. It is a simple cake, with a spongy texture (because the eggs are beaten with the sugar until white, which makes them fluffy) and not overly sweet. It makes a nice everyday coffee cake, but if you are making it for a child's party, you could also cover it in chocolate ganache, or cover the sides with peanuts (as Kim did here, for example, and then the zebra stripes could come out as a surprise! The cake's pattern would be perfect for birthday themes such as Safari, Young Explorers, Animals, Madagascar (the movie) or Africa.
The only variation I introduced to the original one, was the size of the pan: instead of baking my zebra cake in a normal sized pan, i did it in small ramequins. I like to bake cakes in small containers so that I can freeze those that will not be eaten immediately without losing  freshness.  This batter is enough for a 9 inch pan, or for 6 ramequins (mine are from Ikea). I do have to point out, though, that the effect of the zebra stripes is less noticeable when baked in small pans, as you can see from my pictures. So, if you want the full wow effect of the zebra stripes, it is probably better to stick to the traditional size.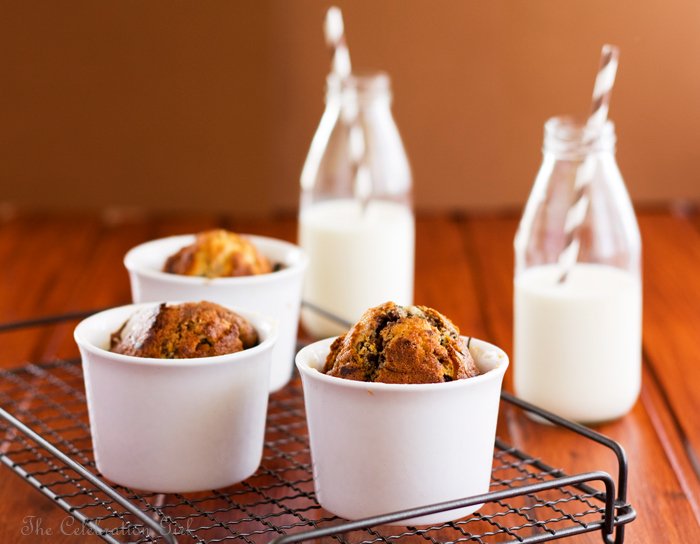 Here is the recipe I used:
Ingredients

4 large eggs

250 grs sugar

250 ml milk

250 ml sunflower oil

300 grs all-purpose flour

1 tablespoon baking powder

2 tablespoons cocoa powder

Preparation

Oil and flour a cake pan and pre-heat the oven to 180C.

Beat sugar and eggs until white and fluffy. Add oil and beat until well-integrated, and then add milk slowly, beating all the time.

In a different container, mix flour and baking powder. Whisk to integrate.

Add dry to wet ingredients in three times, integrating well before each new addition.

Separate the batter in two and add cocoa powder to one half.

Assemble the cake by pouring the batter in the center of the pan, using an ice cream scoop, alternating colours ( two scoops  of vanilla batter, one scoop of cocoa batter, two scoops of vanilla batter, and so on).

Bake for 40 minutes at 180 C.

Note: If you change the size of the pan, remember that the oven times change as well! My mini cakes only took 18 minutes to be ready!
I hope that you like it! Have you ever made a zebra cake before?
Have a nice weekend!