Hello dear friends! How are you today? How was your weekend? Are you ready to start this week? I hope you are and that it will be one full of wonderful surprises.
In this post I am showing the cake I made for my daughter, Zoe, for her birthday.
I changed the design in my mind many times, until I finally decided to improvise. One thing I knew: It had to have flowers and butterflies in it, because Zoe had loved the ones in the cake I made at the cake decorating course, last June. But until I started making the decorations, I didn't really know what type of flowers I was going to make, or how many butterflies I wanted in it.
I do not own special tools for shaping neither butterflies nor flowers, and I did not have any gum paste or modelling paste on hand either. I could not buy any because neither of the cake shops I know in Nicosia were open (It is August, when most shops close), so I had to get creative. I did have fondant, food colouring, a few sugar pearls, non-pareils and sprinkles, as well as an internet connection to google ways of replacing what I didn't have.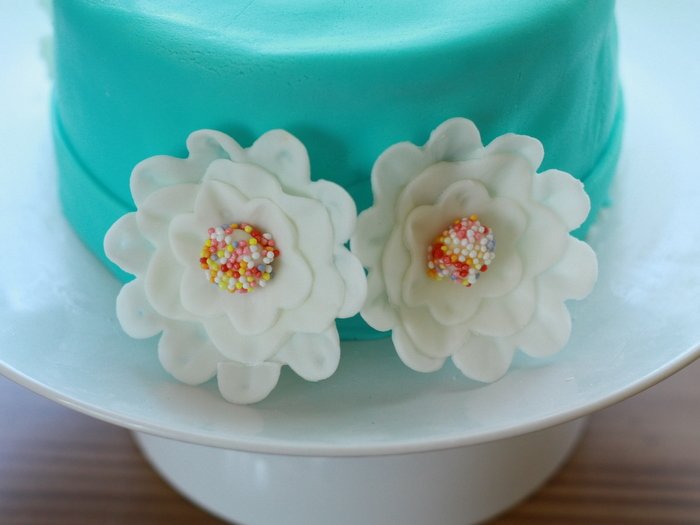 I started working on the flowers and butterflies the night before decorating the cake, to allow the fondant 24 hours drying time. I wanted to be able to place the decorations on the cake without fearing that they would lose shape.  If I had used modelling paste, which dries faster, a few hours would have been enough. In my next post, I will show you step by step pictures of how I did it, and you will see how easy it is.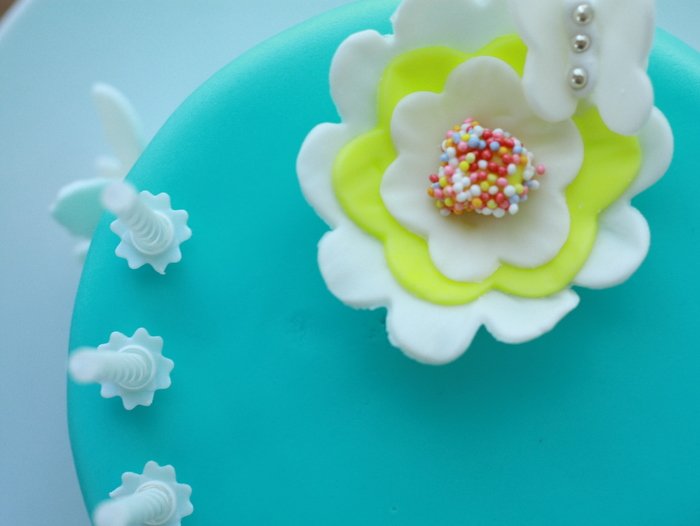 I dyed fondant using Wilton's gel food colouring in Teal (my favourite colour) and covered the cake with it. I then rolled some more fondant and, using a small ruler, I cut a strip, like a ribbon, to cover the lower side of the cake, to give it a more finished look.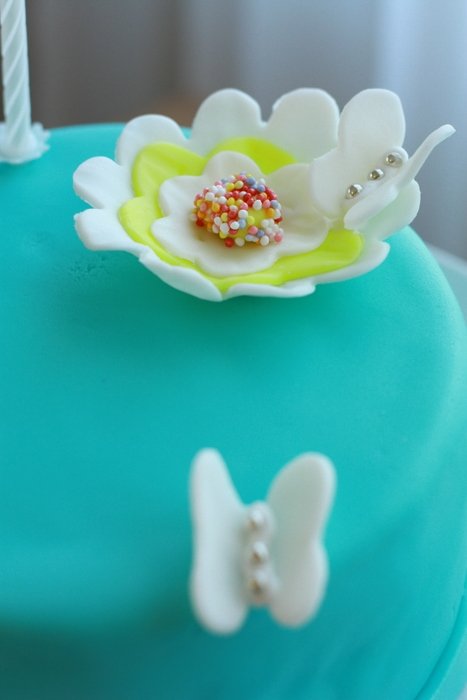 I then started playing around with the flowers and the butterflies until I was happy with the way the cake looked. I used 3 flowers and 3 small butterflies (as many as Zoe's years), eventhough I had originally made 6 butterflies of different sizes.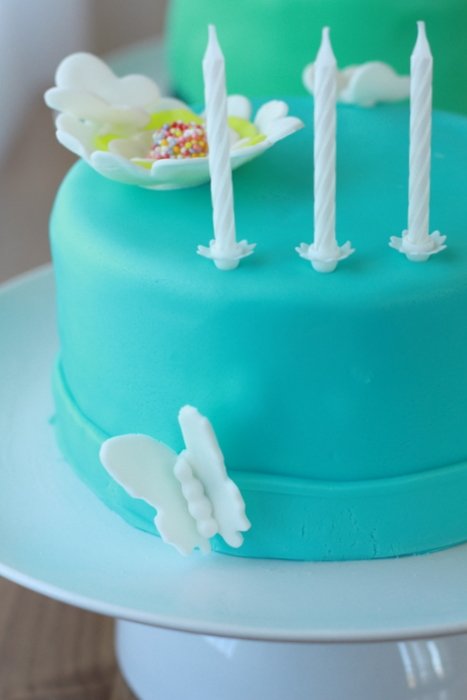 Finally, I added 3 white candles and the cake was ready!
Zoe saw her cake for the first time when I brought it to the living-room to sing the happy birthday, and for her to blow the candles. She was fascinated with the fire in the candles and with the decorations. As soon as the candles were blown, she grabbed the yellow and white flower and the butterfly that was attached to it, and started eating them. Luka followed her soon after with the rest of the butterflies. Then we cut the cake and ate it!
Have a lovely week and see you in a few days!