Good morning dear friends! I hope you are having a lovely week.
As I promised, here is the first post with the birthday cakes I prepared and decorated for my babies'3rd birthday (can I still call them babies? until they are 21?).
This year we decided to postpone their birthday party until November. We are travelling to Argentina for the first time since theywere born, so we thought that it would be a good opportunity to share this special moment with friends and family.  We did have, anyway, a small family celebration : we filled the living room floor with balloons the night before, so that they would find them when waking up, and left their presents in their small table. And of course, there were cakes! Since it was just the four of us, the cakes were small , but I still thought it was important for each of them to have their own, and for the cakes to be decorated according to their personalities.
Both cakes had the same flavours:  2 layers of lemon cake, and 1 layer of chocolate cake, filled with 1 layer of blueberry jam and 1 layer of  chocolate buttercream, and covered in fondant.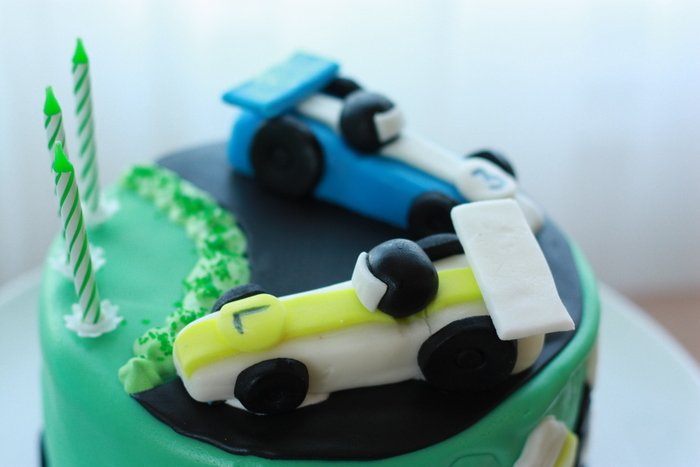 Luka's cake was covered in green fondant and decorated with racing cars made with fondant. I made the racing cars the night before decorating the rest of the cake, to let them dry properly, following this tutorial from Cake Journal. I do not have all the instruments required so I had to be creative, for eg: in order to shape the car, I used a big knife and a fondant smoother (instead of two fondant smoothers), I used a lollipop stick to curve the car to make space for the head of the driver to sit in (instead of a ball tool), and instead of sugar glue, I used sugar syrup (=almibar).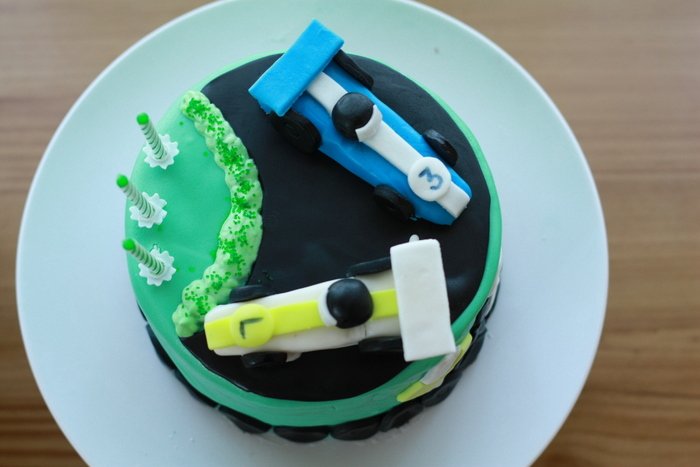 In order to make the asphalt, I rolled black fondant, I  placed the cake pan in which I had baked the cake on top of it, and I cut around it its perimeter with a pizza cutter. That gave me a circle of the exact same size as the top of the cake, but I didn't want that much grass so, using the same pan to guide me, I cut a portion of the circle, creating a crease. I then placed the crescent moon on top of the cake, draw white lines in it with royal icing and glued the cars on top. I made grass with royal icing, using a #133 piping tip and added a few grains of green sugar sprinkles.
I covered the perimeter of the cake with tyres, made with the back of a #2D piping tip, and embossed in the center with a #10 tip. I also made two racing flags (I didn't take a picture of them, sorry!) to put in front of the cake). One was yellow and white and the other one was black and white. To make them, I used a small square cookie cutter, and cut 1 white square, 1 black square and 1 yellow square. I then divided each square in four parts and mixed them to create the flags.
I finally added the candles, and that was all, the cake was ready!
As you can see  it was a very easy cake, but Luka loved it. He was so excited about the cars, the candles and the wheels around it! He loves cars, trucks, trains,  anything that has wheels in it. I was happy to see him happy.
In my next post I'll show you Zoe's cake, which was girly, like her.
Have a nice week!