Good morning dear friends!
Today's recipe was my monthly contribution to the Spanish website Petit-On. As I have mentioned before, each month I contribute a recipe based on an ingredient chosen by one of the blog's contributors. To my utter delight, the ingredient for April was strawberries!
I love strawberries and, each year, I wait anxiously for April to arrive because I know that it's strawberry season. I love their fragrant smell, their sweetness that goes so well with slightly tangy flavors, and the deep red of their skins. They are delicious and beautiful, a real  feast for all senses.  The funny thing is that I hated them when I was a child…but fortunately I have come to my senses since then!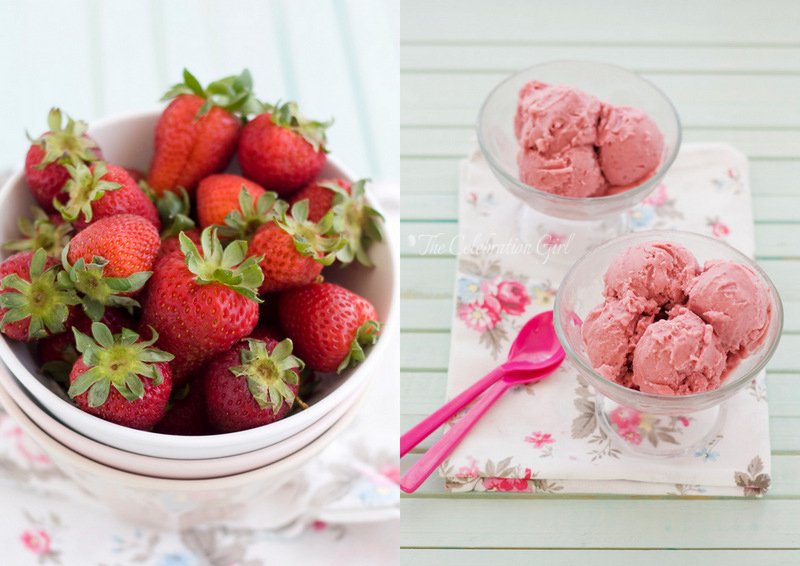 Loving strawberries as I do, it took me a while to chose a recipe, but I finally decided to make this one, because what better way to greet the warmer weather and celebrate Spring than with a delicious ice cream?
As you will soon see, an added beauty of this recipe is that it takes very few ingredients: coconut milk, fresh strawberries, sugar and a splash of good vanilla, to enhance the strawberries natural flavor  (I use vanilla bean paste but you may use vanilla extract if you want, or a vanilla pod). Yes, no milk, no cream and no eggs, which also means no need to make a custard, beat ingredients or anything like that. I warm up the milk with the sugar for a little while, so that the sugar cristals dissolve but you can also make it raw and just out all ingredients in a blender or food processor at the same time, process and refrigerate for a couple of hours before churning in an ice cream maker.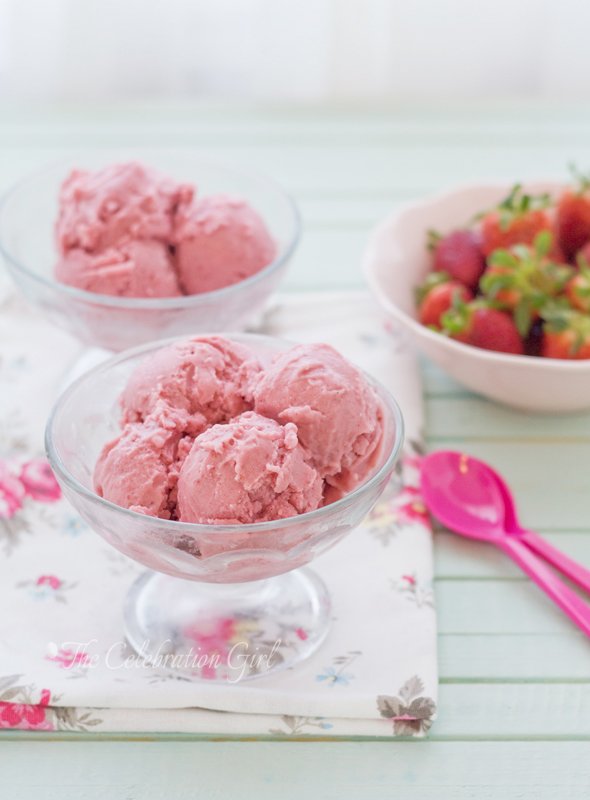 Here is the recipe:
Strawberry and coconut ice cream

Ingredients: 2 1/2 cup of strawberries , 1 can of coconut milk, 1/2 cup of sugar, 1 teaspoon of vanilla bean paste/the seeds of 1 vanilla pod or 2 teaspoons of vanilla extract.

Preparation:

1) Wash the strawberries, remove the leaves, cut them in half and put them in the bowl of a food processor or blender.  Process and blend until they transform into a purée. Reserve.

2) Put coconut milk and sugar in a saucepan and bring to moderate heat for about 5 minutes, so that the sugar crystals dissolve. Remove from the heat, let cool down for a while and add vanilla.

3) Pour the sugared milk in the food processor/blender, together with the strawberry purée and pulse a few times to to integrate well.

4) Pour the preparation in a tall glass/bowl, cover with foil and refrigerate for at least 4 hours before churning.

5) Remove the preparation from the refrigerator and churn in your ice cream maker according to the manufacturer's instructions. I use the KitchenAid ice cream attachment, with which it takes 15-20 minutes for the ice cream to reach soft consistency.

6) Remove the ice cream from the machine, put it in an airtight container and place it in the freezer for a couple of hours so that it reaches scoop consistency.
If you don't have an ice cream machine, you can still make this recipe. In that case, instead of refrigerating the preparation as is required before churning, put it directly in the freezer, and remove it every 30 minutes during 2 hours, beating it vigorously every time, so as to break the ice crystals. You may also use it to make ice lollies, if you have the molds.  They will be delicious either way!
Do you like to make ice cream at home? Do you have any food allergies that prevent you from eating ice cream at a shop? Let me know in the comments below and I promise I'll do my best to come up with a recipe you can eat!