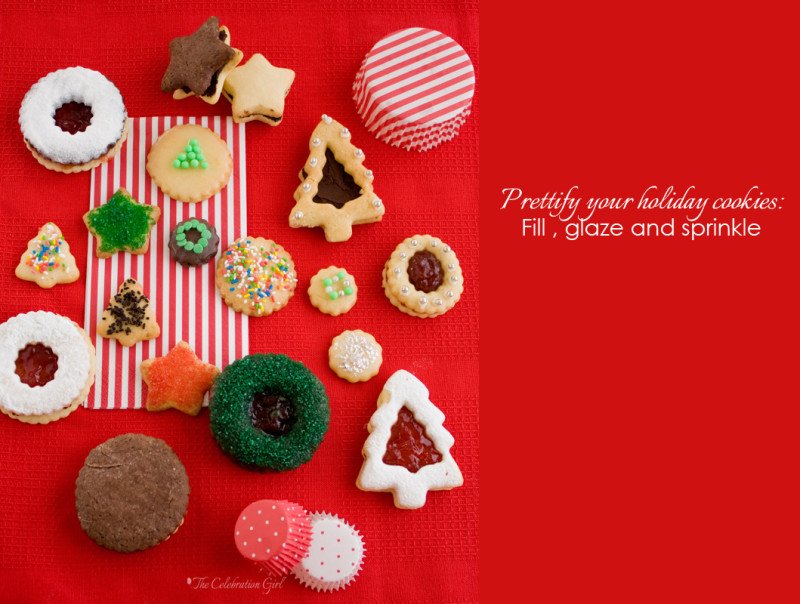 Good morning dear friends! 18 days until Christmas!
Now that you have made your cookie dough,  baked them in different shapes and prepared your fillings and glazes, let's play with them and add some more cookies to your assorted cookie box! You may also want to get sprinkles, non pareils, sanding sugar, blanched slivered almonds, crushed nuts, funfetti and any other decoration of your liking.
 Ready? Ok, let's begin. And remember: these are just a few ideas to spark your imagination.  I am sure that, when you start playing with whatever you have in hand, you will find many more options!
1) Sandwich cookies: The easiest idea is to sandwich two cookies of the same size and shape with a filling of your choice. In my previous post, I  gave you the recipe for a chocolate cream that tastes particularly delicious with the almond shortbread cookies, but you could also use nutella, vanilla cream, lemon curd, or jams and marmalades, such as orange, strawberry, or raspberry, for example.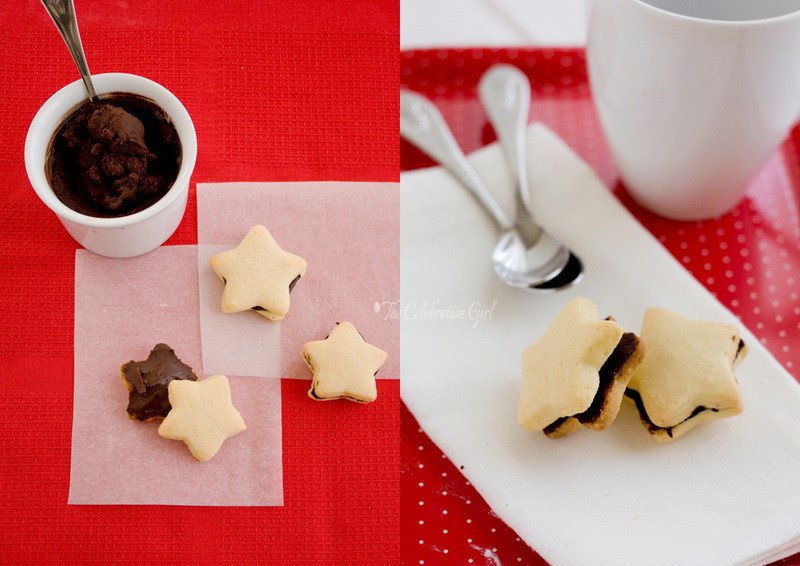 2) Combined sandwich cookies: This idea is a simple variation of the first one: combine the cookie flavors when sandwiching them. Different cookie recipes also have different textures and,when combined, they offer different taste experiences. You could combine, for example, a chocolate sugar cookie with an almond shortbread cookie, filling it with nutella; or join an orange sugar cookie with a vanilla sugar cookie, and sandwich them with lemon curd; or sandwich a lemon and an orange sugar cookie with raspberry or strawberry jam (the tart flavor of the citrus combines beautifully with the sweetness of the berries). Again, play around until you find your own favorites!
3) Linzer cookies: These look so pretty, don't you think? They are two cookies, sandwiched with strawberry or raspberry jam, with the peculiarity that the top cookie has a  cutout that reveals the jam, and has been sprinkled with confectioner's sugar prior to sandwiching it (if you sprinkle the sugar after, it will cover the jam as well and the effect will be lost).
4) Linzer cookies, decorated with sugar pearls (instead of  confectioner's sugar): This is a sparkly twist on the traditional linzer cookies and, as you can see from the pictures, I changed the traditional filling as well, and used chocolate cream instead of jam in one of the cookies. In order to attach the sugar pearls you can use royal icing (home made or pre made as the one in the picture), or sugar glue.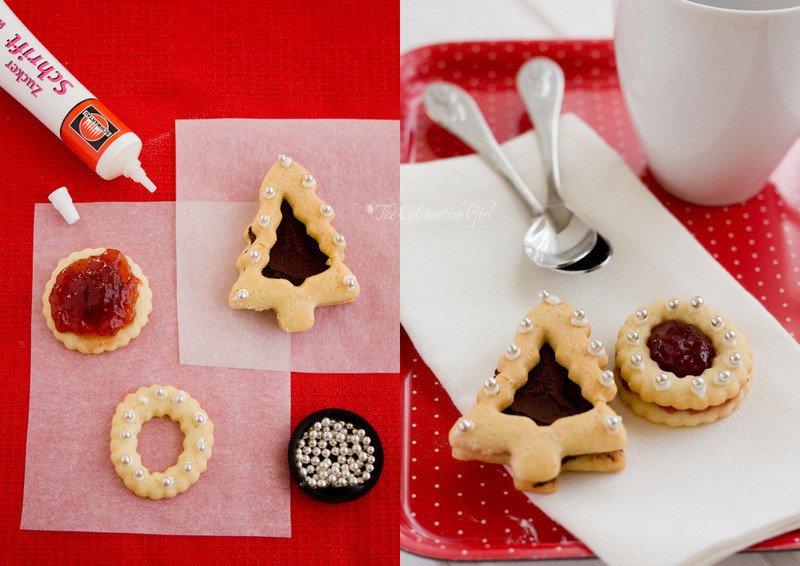 5) Lemon, orange or sugar glazed cookies: If you are thinking what to do with all the mini cookies you got left, after making linzer cookies, this is a good solution that also maximizes every bit of dough and saves you time. Place your cookies on a wire rack, pour one tablespoon of the glaze of your choice over each of them (Lemon glaze is my favourite) and let it set.  You could also move your spoon back and forth, quickly, when pouring the glaze, to create stripes of glaze instead of giving the cookies of full coverage.
6) Glazed cookies, decorated with sprinkles: This is a variation of the ones above. Place your cookies on a wire rack, pour one tablespoon of the glaze of your choice over each of them and  immediately spread a few sprinkles over them. I used the ones I have, but red and green ones would look adorable and appropriate for this season. Let the glaze set.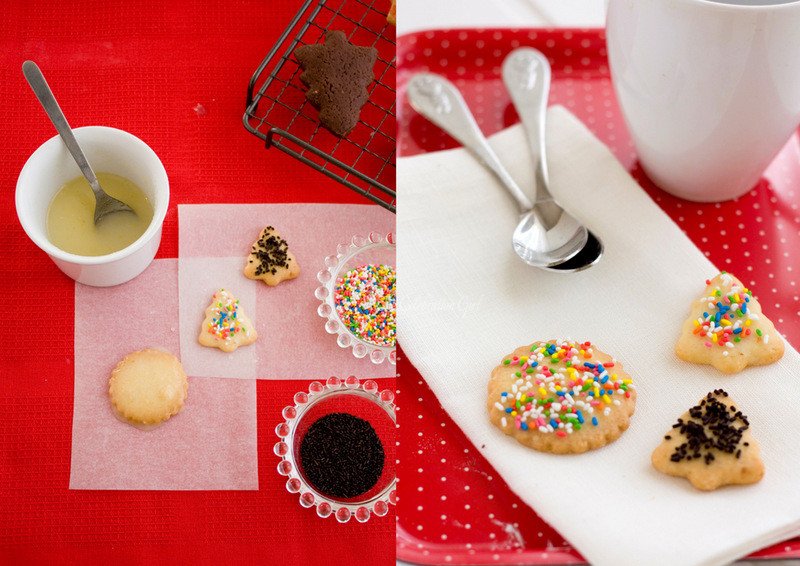 7) Glazed cookies, decorated with sanding sugar:  Another easy variation to use with glaze.Just as before, place your cookies on a wire rack, pour one tablespoon of the glaze of your choice over each of them and  immediately spread sanding sugar over them. Let the glaze set and then lift the cookies and shake them to remove the excess sugar.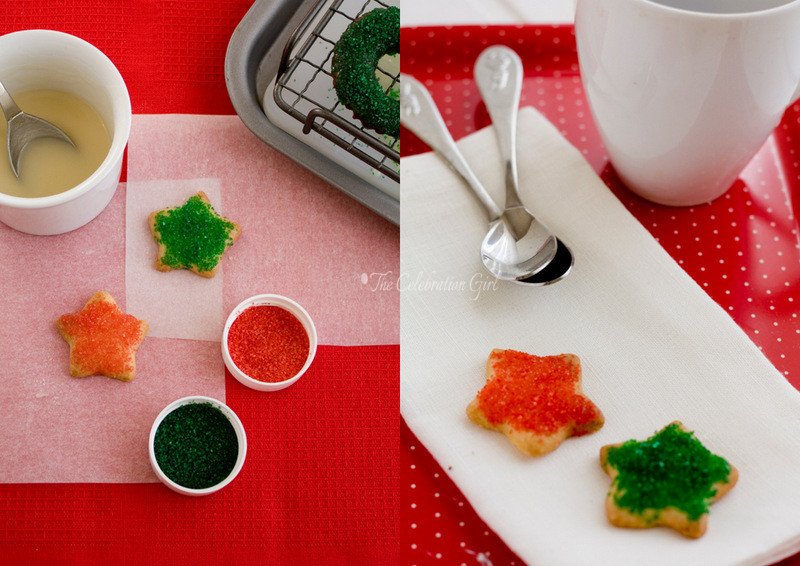 8) Linzer cookies, glazed and decorated with sanding sugar: This option would look particularly pretty with a Christmas tree shaped linzer cookie, but I thought about it too late (he).  In order to make it, fill the bottom cookie with jam or other filling, as it is traditional but, instead of sprinkling the top cookie with confectioner's sugar, put it on a wire rack, glaze it and add sanding sugar to it (as in the cookies above). The result will be a sparkly, crunchy linzer cookie that the kids will love!
 9) Lemon glazed sugar cookies, with Christmas designs made with sprinkles and funfetti: Finally, here is a way to let out the little artist in you and/or play with the kids. Take all your sugar decorations out , pour the glaze of your choice over the cookies, and have fun creating Christmas shapes. I made a tree and a couple of wreaths but you could also make elf hats, stockings, stars…anything!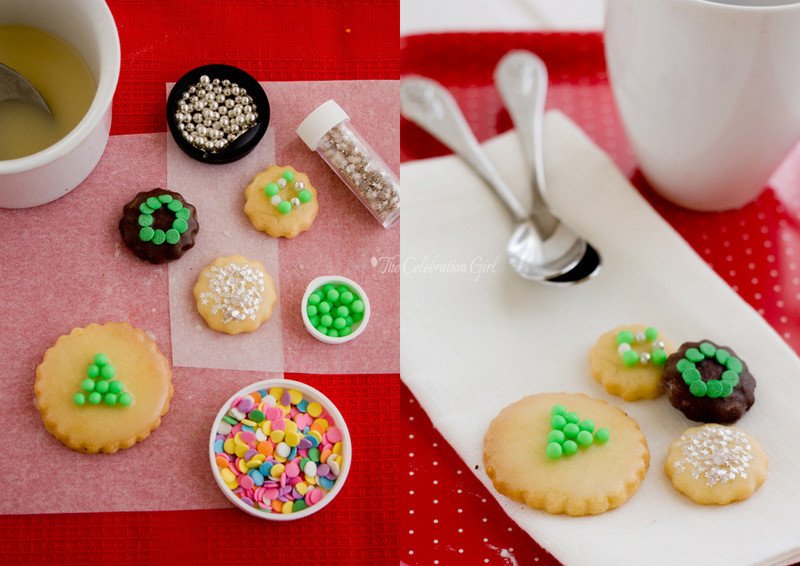 Have fun decorating cookies! And make some extra dough, because there are more ideas to come!
Con sabor latino…

Buenos días queridos amigos! Faltan sólo 18 días para la navidad!

Ahora que ya han preparado la masa de sus galletitas, las han horneado con formas diferentes, y tienen los rellenos y glaseados listos, es hora de comenzar a jugar con todos estos elementos y ampliar la variedad de nuestras cajas de galletitas surtidas. Preparen todos los ingredientes, y busquen todas las granas, azucares, perlas, non pareils, nueces, funfetti y demas decoraciones que anden dando vuelta por sus casas,  porque vamos a darles buen uso!

Listos? Comenzamos! Las ideas que les voy a mostrar a continuación son sólo algunas de las tantas posibilidades que existen…cuando empiecen a jugar con sus materiales y dejen volar su imaginación seguramente crearán muchas otras combinaciones diferentes!

Estas son mis opciones:

1) Galletas rellenas: La idea más sencilla de todas, sin, dudas, es la de unir dos galletitas de la misma forma y tamaño con un relleno que nos guste. La idea me gusta más con galletitas en miniatura, quedan más delicadas, pero eso es cuestión de gustos. En mi post anterior compartí la receta de una crema de chocolate que es ideal para combinar con las galletitas de almendra, pero tambien pueden usar otros rellenos, como nutella, crema de vainilla, lemon curd, o bien mermeladas y jaleas de naranja, frutilla o frambuesa, entre otras.

2) Galletas rellenas combinadas: Una variante simple de la opción anterior es combinar los sabores de las galletitas que uniremos con relleno. Por otra parte, diferentes recetas otorgan galletitas con textura diferente y, cuando las combinamos, ofrecen una experiencia gustativa diferente. Algunas combinaciones que me gustan mucho son, entre otras: galletita de chocolate y de almendras con relleno de nutella, galletita de naranja y vainilla con relleno de lemon curd, o galletita de limon y galletita de naranja con relleno de frambuesas o frutillas (la acidez de los citricos combina deliciosamente con la dulzura de las fresas y frutos del bosque). Jueguen hasta encontrar sus favoritas!

3) Galletitas Linzer: Son tan bonitas, no les parece? Se trata de dos galletitas, unidas con mermelada de frambuesa o frutilla, que tienen la peculiaridad de que la galletita superior está ahuecada, dejando ver el relleno, y ha sido espolvoreada con azucar impalpable antes de unir. Es necesario espolvorearla con azucar antes de unirla porque, si lo hacemos despues, el azucar cubrirá la mermelada y se perderá el efecto tradicional.

4) Galletitas Linzer, decoradas con perlas de azucar en lugar de azucar impalpable: Una variación para darle un poco de brillo a las Linzer tradicionales. Noten tambien que, en esta ocasión, tambien jugué con los rellenos y me tomé la libertad de colocar crema de chocolate en una de las galletitas. Las perlas de azucar pueden pegarse a la galletita con glacé real (casero o envasado), o bien con pegamento de azucar (sugar glue).

5) Glaseado de limón, naranja o azúcar: Esta es una buena solución para todas aquellas mini galletitas que les quedaron despues de ahuecar las que usaron para hacer las linzer, y asi ampliar de manera eficiente la variedad de su cajita de galletas surtidas. Coloquen la galletita en una rejilla y viertansobre la misma el glaseado que más les guste ( el de limon es mi preferido) y dejenlo secar. Tambien pueden glasearlas  moviendo la cuchara hacia delante y hacia atrás, rápidamente, para crear un efecto zebra.

6) Galletitas glaseadas y decoradas con granas de colores: Una variación de la opción anterior. Coloquen la galletita  en una rejilla, viertan sobre la misma el glaseado que más les guste e, inmediatamente despues, espolvoreen granas de colores. Yo usé las que tenía en casa, pero una combinación de granas verdes y rojas se vería preciosa y apropiada para esta época. Dejen secar el glaseado

7) Galletitas glaseadas y decoradas con azucar de colores: Coloquen la galletita en una rejilla y viertan sobre la misma el glaseado que más les guste e, inmediatamente, espolvoreen azucar de colores encima. Dejen secar el glaseaso y luego levanten la galletita con cuidado, y agitenla un poquito, para dejar caer el azúcar extra.

8)Galletitas linzer, glaseadas y decoradas con azucar de colores: Esta opción es ideal para las galletitas linzer con forma de arbolito de navidad pero se me ocurrió demasiado tarde (je). Para hacerla, rellenen la galletita de abajo de la manera tradicional pero, en lugar de espolvorear la galletita superior con azucar impalplable, colóquenla en una rejilla, viertan el glaseado deseado y luego espolvoreen azucar de colores sobre el mismo. El resultado será una galletita linzer brillante y crujiente que los niños adorarán!

9) Galletitas con glaseado de limón, y diseños hechos con granas y perlas de azucar. Finalmente, les dejo una opción para sacar su artista interior y/o jugar con los niños. Tomen todas sus decoraciones de azucar, coloquen la galletita ahuecada en una rejilla y viertan sobre la misma el glaseado que más les guste y luego diviertanse dibujando formitas navideñas con granas, perlas, funfetti y demás. Yo hice un arbolito y varias coronas, a modo de ejemplo, pero tambien pueden hacerse bastoncitos, gorros de elfo, medias navideñas, estrellas…prácticamente cualquier cosa!

Espero que se diviertan muchísimo decorando sus galletitas! Y guarden masa o hagan de más, porque la semana que viene llegarán más ideas todavía!