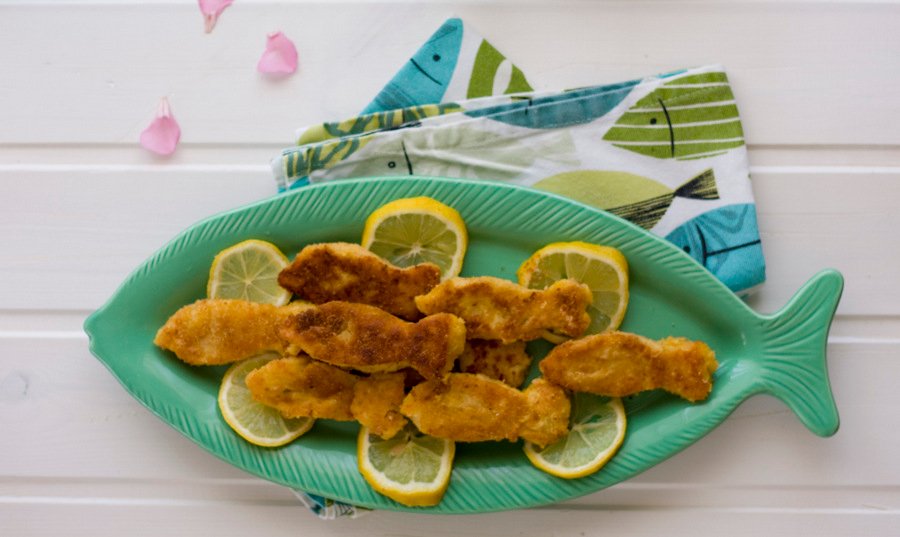 Good morning dear friends! Are you ready for the weekend?
Today I bring you a post with a delicious recipe that I discovered through Whole Kitchen cooking club, El Circulo Whole Kitchen.Whole Kitchen Magazine provides two recipes to its members every month  ( one sweet and one savory), and the savory proposal for May 2012 was fish cakes.
I immediately liked the idea because, even though we live on an island, I have found it hard to incorporate fish into our diet, particularly that of our children. When I read the recipe for these fish cakes, I loved how versatile it was:  I could  shape them in different ways to make them more attractive for Luka and Zoe, and I could sneak in vegetables (Yes, I do that, I have picky eating toddlers!). The recipe also suits very well Cyprus lovely Spring weather, and it was perfect for a quick-lunch at the balcony, after the children came back from nursery school.
Whole Kitchen provided us with two different recipes: one from Jamie Oliver, which called for salmon and potatoes, and the other one from Trotamundos, which called for white fish, beans and potatoes. I decided to make my variation and used white fish fillets, potatoes, and butternut squash for a sweeter taste.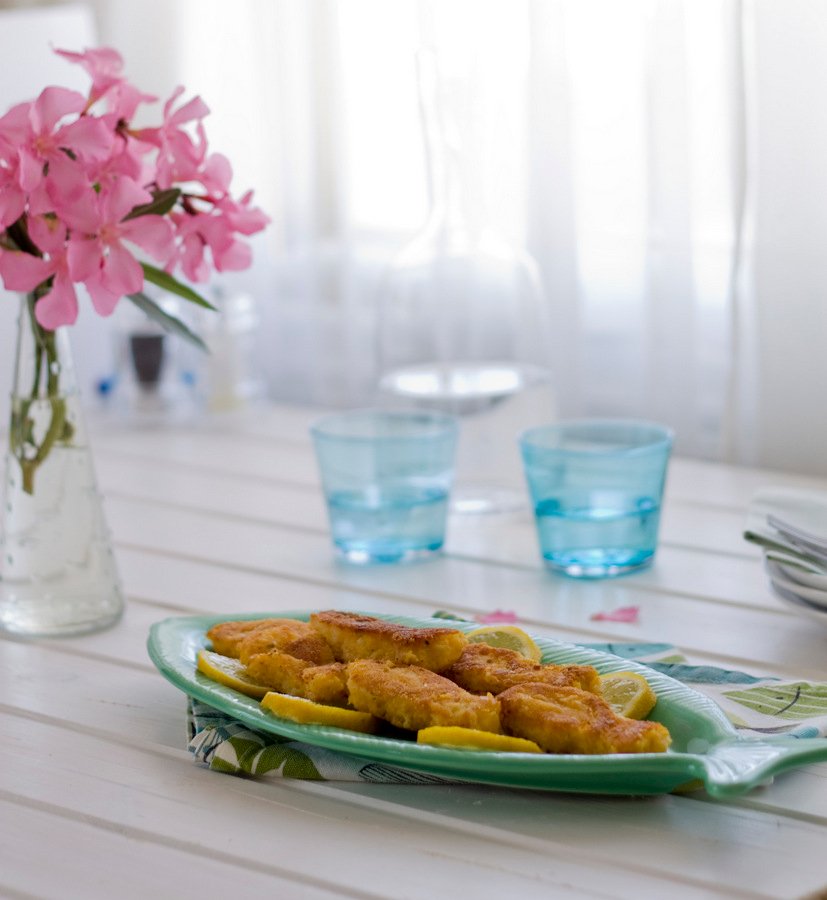 These fish cakes are really, really simple to make and they require very few ingredients: all you need is fish, potatoes and squash, plus one egg and a bit of flour and bread crumbs for assembling them, that's all. The procedure couldn't be easier but it may take a bit of time if you decide to give them a specific shape, as I did. First, you need to boil or steam the vegetables until very tender. In the meantime, cook the fish in the oven for about 10 minutes, drizzled with olive oil and covered in aluminum foil. Once everything is cooked, you simply have to mash the vegetables, add the fish and a bit of parsley (or other spice of your own preference) shape the cakes, flour them and fry them in just a bit of oil.
As I mentioned, I did not make these cakes round, as it is traditional. Instead, since I was going to be serving them to my children, I decided to use a fish-shaped cookie cutter to make them more enticing.
In order to give them this shape, I covered a cookie sheet with foil, extended the preparation on top, covered it with more foil and put the sheet in the fridge for half an hour, for it to get some consistency. After this time, I took it out and started cutting little fish with my cutter and placing them on a plate. Once I was done, I put the fish cakes back in the fridge for another half an hour. This is necessary for them not to lose their shape when you flour them.
After half an hour, I took the fish cakes out of the fridge, floured them (passing by flour, egg and bread crumbs) and fried them in just a tiny bit of oil, until golden. The next time I make them I will try to bake them in the oven, but since this was the first time, I decided to stick to the traditional cooking methods. Frying them makes them crispy on the outside while remaining soft on the inside – and they are just delicious!
I also decided to keep the flavours simple, so that the sweetness of the squash would be palpable,  and therefore used as condiment only a bit of parsley, salt and pepper. You could be more adventurous, and try to add other spices either in the main mixture or by flavouring the bread crumbs with lemon zest or a Provençal mix (garlic and parsley), for example.
Fish cakes are traditionally accompanied by French fries, but I decided to go for a healthier option and opted for a quick, simple salad of cucumbers and cherry tomatoes instead. While  I like to eat fried food on occasions, I don't have a big resistance to it, and I find that I can tolerate them better if I eat them with fresh vegetables.  I am a big fan of salads all year-long, but I must confess that I could pretty much live on them during the warmer months!
Here's the recipe:

Ingredients:

– 3 fish fillets

– 2 medium-sized potatoes

– 5 slices of butternut squash

– Parsley, salt and pepper to taste

– Flour

– breadcrumbs

-Oil for frying

Preparation:

– Dice potatoes and squash and put in a saucepan, cover with water and bring to the boil until tender.

– Put the fish fillets in an oven tray, add salt and pepper and drizzle with olive oil. Cover with aluminum foil and cook for about 10 minutes.

– Mash the potatoes and squash. Crumble the fish fillets and add them to the vegetable purée. Add salt and pepper to taste and parsley, if desired.

– Shape small cakes with the help of your hands, place them on a tray, and put them in the fridge for half an hour. If you want to give the cakes a cookie cutter shape, extend the mixture on an oven tray covered in foil, put it in the fridge for half an hour, and only after this use the cookie cutter.

– Slightly beat one egg. Remove the cakes from the fish, flour them, dip them in egg, and pass them by bread crumbs so that these stick to them.

– Put a bit of oil in a frying pan and, once heated, add the fish cakes, until golden on both sides. Serve.
I hope you'll like them!
Have a great weekend!