Good morning dear friends! How are you today? I hope you are all doing great.
I apologize for not posting last week. We had a very dear friend visiting us from abroad and we spent our days showing her around, and just enjoying her company. We had a great time, remembering good old times in Abidjan, Ivory Coast, where we all used to lived 4 years ago. Living outside of my home country has required a lot of adapting, and one of the things I have had to accept is having friends scattered all over the globe, and not being able to see them for long stretches of time.  So, when we finally do meet, we try to squeeze time as much as we can and some other things fall behind.
But here I am again! Today, I am bringing you the rest of the recipes from our summer lunch, which consisted of  tzatziki, guacamole, tabbouleh salad, crispy pitta bread slices and lemon coconut mousse for dessert. These are not my recipes, they are actually very common dishes, and I have read many different versions of each of them, but this is how I usually make them. They are  ideal for this time of the year because they are fresh and simple, but I must confess that I LOVE tabbouleh all year-long.
I became a fan of Lebanese food in Abidjan, actually. Ivory Coast (and most of West Africa) has a large number of Lebanese people living in the country, and there are many Lebanese restaurants where one can try dishes such as tabbouleh, kebbeh, falafel, fatoush, etc. Tabbouleh was always one of my favourites and I would order it every time. I learnt how to make Guacamole from a recipe book, so my dear Amanda will have to tell me whether it's a good one or not!
In order to make Guacamole you will need:
-1 ripe avocado, mashed
– 1/2 a tomato, peeled, de-seeded and cut in small cubes.
-1/2 garlic clove, crushed
– 1/2 red onion, finely diced
– Juice of 1/2 lime or lemon
– 1 teaspoon of olive oil
-salt and pepper to taste
– a few parsley leaves, to garnish.
Preparation is very simple:
1) Peel and mash the avocado with the lime/lemon juice.Put in a bowl.
2) Peel and de-seed the tomatoes. Dice them finely and add to the mashed avocado.
3) Peel and dice the onion, crush the garlic clove and add both to the avocado/tomato mixture.
4) Add olive oil, salt and pepper. Mix everything.
5) Chop a few parsley leaves and add to garnish. Serve.
Voilà!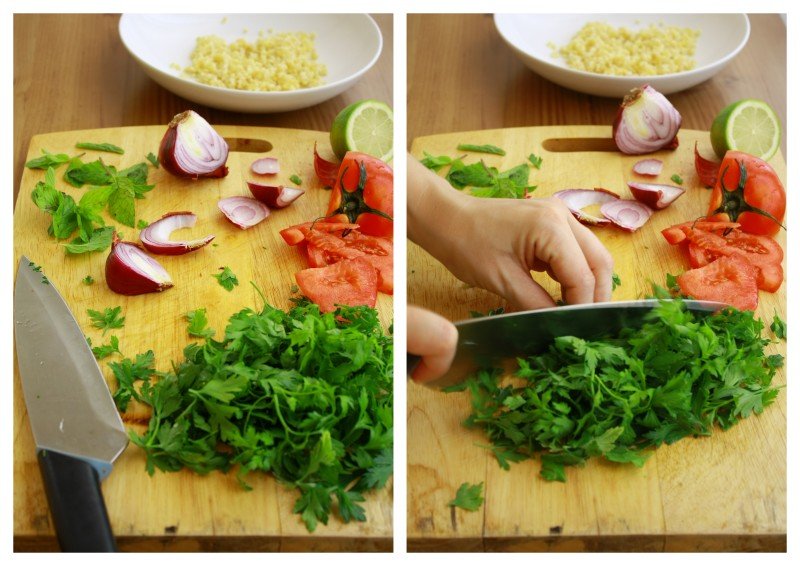 In order to make Tabbouleh, you will need:
-1 cup (a large bunch) of parsley leaves (you need only the leaves!)
– 1/3 cup of mint leaves
– 1/3 cup of bulgur wheat (If you have a gluten-free diet, you can replace it by Quinoa)
– 1 Tomato, finely diced
– 1/2 red onion
– Juice of 1/2 lime
– 1 teaspoon olive oil
– salt and pepper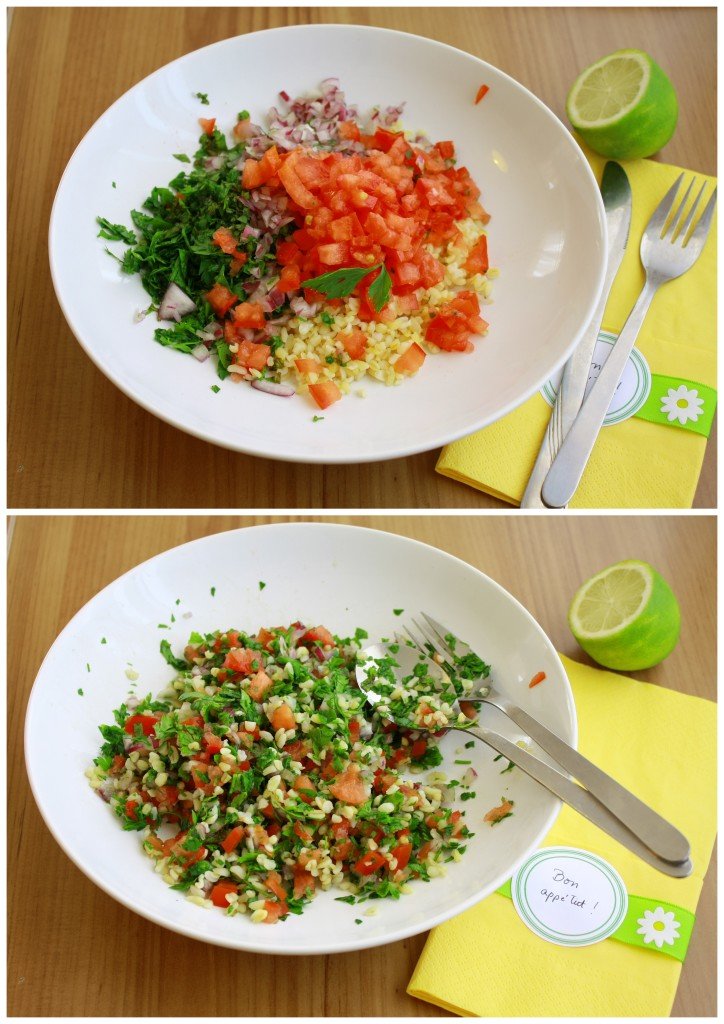 Preparation:
1)The first thing you need to do is wash and rinse the wheat twice. After you have done that, put it in a bowl and cover it with boiling water. Cover the bowl and let it sit for about 20 minutes, until the wheat absorbs the water.When the wheat is ready, put in a serving dish.
2) Using a knife, finely chop the parsley and mint leaves. I know it is tempting to use the food processor (if you have one) to chop all ingredients at once, but it changes the herb's flavour, so do it the traditional way. Add the chopped leaves to the wheat.
3) Dice the tomatoes and the onion. Add to the rest of the ingredients.
4) Mix olive oil and lime juice. Add to the rest of the salad, together with salt and pepper to taste.
5) Toss all ingredients together several times. Serve.
Finally, I toasted some pitta bread in the oven with a drizzle of olive oil and oregano, and served the guacamole in them.
I simply cut one pitta bread into rectangles, then sliced it diagonally to form triangles. I put these slices in an oven tray covered with aluminium foil, drizzled them with olive oil, added salt and oregano and put them in the oven at 200 C for 5 minutes.
This is how they looked when they were done. They are very crispy, flavourful,  and great for serving dips in them: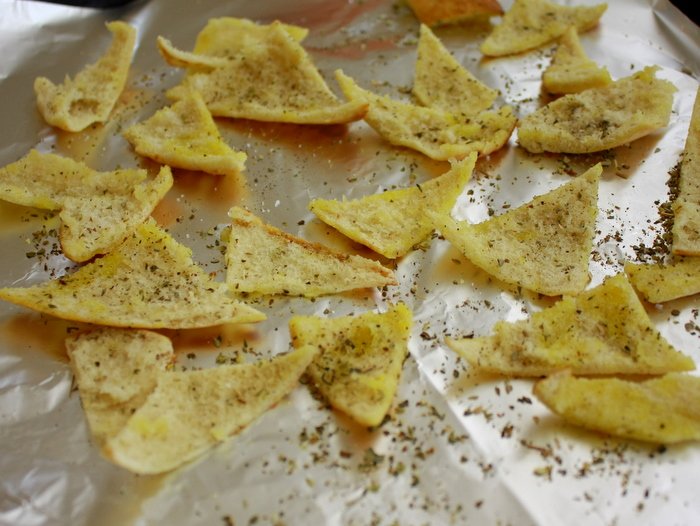 Have you had Tabbouleh and/or guacamole before? Dis you like them?
If you do like them, do you make your own at home too? Are your recipes similar to these ones or very different?
May you have a happy Wednesday. See you next week!