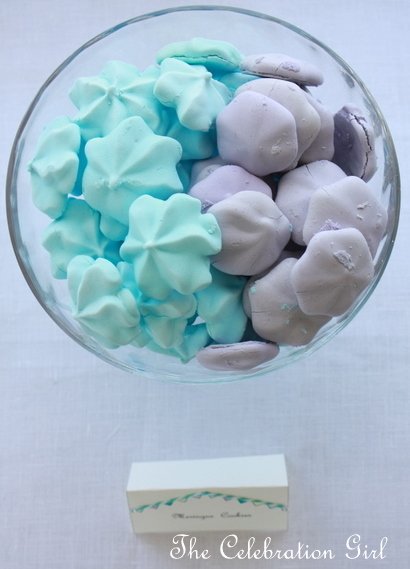 Hello dear friends! How was your weekend? Are you ready to start a new week?
A few readers have asked me for the recipe of the meringue cookies I served at my birthday party, so here is all the information and a few tips.
The recipe  I used for the cookies is The TomKat Studio's Susie's Forgotten Meringue Recipe. I have been following Kim's blog for a long time and I bookmarked this recipe the minute I saw it. In Argentina we call them "merenguitos" but the cookies from this recipe are softer and chewier than them. They just melt in  your mouth!So if you want to do them, just click on the link above and follow the recipe (and after you do that, take a look and Kim's beautiful creations, they are amazing!).
Before starting, make sure the bowl and all utensils you will use are very clean. In order to make sure they are spotless I spray a little bit of lemon juice in them and then wipe it out using a paper towel (a trick I learnt from Sweetapolita)
I am adding below a few tips for those who -like me- don't own a stand mixer,  and I hope you will find them useful if that is your case.
As I mentioned above, I do not own a Kitchen Aid or any other stand mixer*, so making some recipes becomes a challenge. What I do own is a Moulinex Masterchef 8000 food processor, which comes with a whisk attachment:
This type of machines have their limitations, and they are generally unable to reach really hard meringue peaks, or they leave a part of the batter unmixed (the one between the bottom of the bowl and the whisk). But they are still very useful (and definitelly better than beating by hand!).
What I will show you is the consistencies I worked with for making these meringue cookies. I am doing this because I know how frustrating it can be to watch pictures of  preparations done with stand mixers, not being able to achieve such consistencies and not knowing whether the ones we can actually achieve are enough for the recipe.
The recipe mentions 3 different consistencies:
1) Foamy:  When your egg whites look as below, add cream of tartar and salt.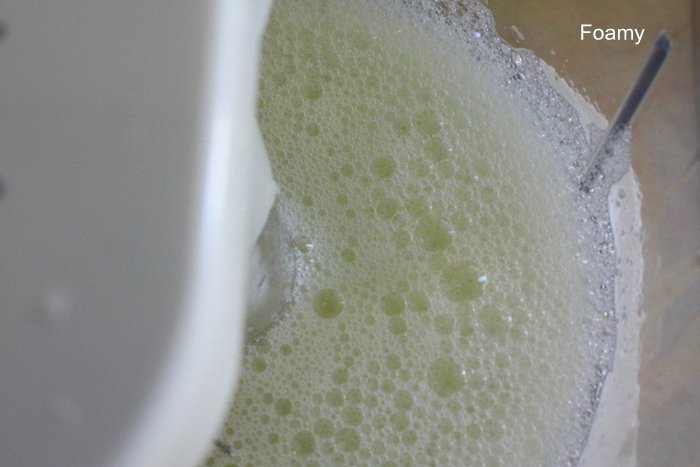 2) Soft peaks: When your egg whites look as below, start adding sugar: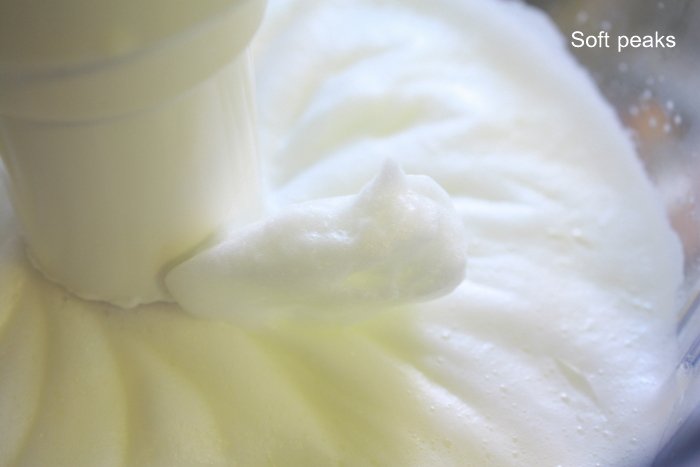 3) Hard peaks: Continue beating until your meringue looks at least as in the picture below.The meringue has to be the harder consistency you can reach in order for the cookies to hold their shape (especially if you want a cute star shape), otherwise they won't.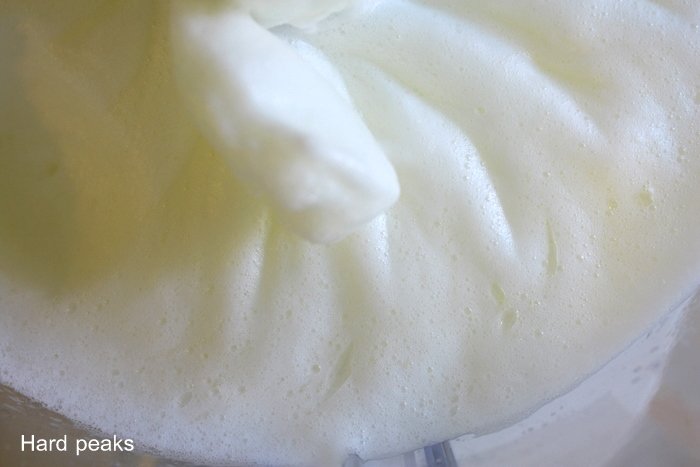 This is not the ideal consistency (which is harder) but is all my processor will achieve (after a good 15/20 minutes of beating at maximum speed) and enough to make these cookies. In order to make sure that they do hold their shape, it is a good idea to keep the meringue in the fridge (in a bowl covered with foil) for about 15 minutes, before putting it in the piping bag.
After your meringue is ready, just add colouring and put it into piping bags. For the cookies I made, I used a 2D and a 1M piping tip, for the aqua and lavender cookies, respectively. As you can see from the picture below, the 2D is a closed star tip and the 1M an open star tip. The cookies I piped with the 2D tip held their shape better than the ones I piped with the 1M tip.
Here is how the tips look from above, in case piping tips are classified in a different way where you live:
After you have piped all cookies, simply put them in the oven, following the recipe's instructions.  After they are ready, let them rest in the oven for several hours.
Here is a picture of my aqua cookies the day after I made them:
And this is all! They are cheap, easy to make, delicious to eat and look really pretty at a dessert table! Thank you Susie and Kim for sharing this recipe!
Will you make them?
* Kitchen Aid stand mixers are very expensive outside of the US (560 euros in Cyprus for example)