Good morning dear friends! How are you? Can you believe that the first month of the year is already gone? Am I the only one that feels that Christmas was, like, yesterday?
This past week I was hit by a cold, again. It seems that every virus that is going around finds a place in my throat because I have been coughing and coughing and coughing for a week now. It is getting better, fortunately, but a little bit of it still remains, which is why I haven't posted here as planned- I was barely cooking.  I have a pile of recipes I want to tweak and photograph for you, and I am hoping to be able to do it in the upcoming weeks.
The recipe I am bringing you today is the one I contributed to Petit-On in January. The monthly challenge involved recipes containing oats, an ingredient I love. In fact, my most iconic desert, nugatón , has oats as its main ingredient and I considered sharing that recipe instead for quite a while. I finally decided against it because it also takes great quantities of chocolate and butter and most of us are still detoxing from the holidays,  am I right?
I started making my own granola and muesli 5 years ago, when I was living in Ivory Coast. They are both so easy to make, and making them at home allows me to become creative and vary nuts, seeds and spices to suit the season (and my own cravings!). This combination that I bring you today is ideal for winter, because it uses honey, ginger, cinnamon and cardamom, spices that pair very well with seasonal fruits like apples and pears. If you live in the Southern hemisphere, I recommend eating it with apricots or peaches, which also pair well with this spice blend.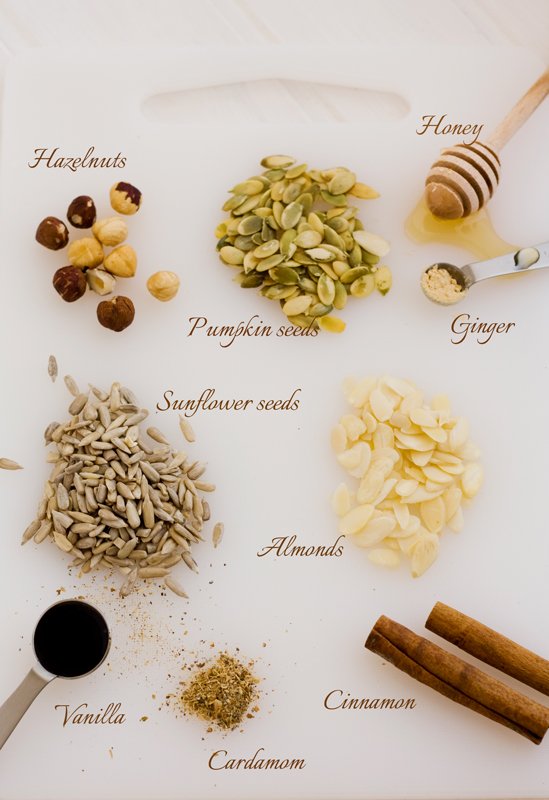 As you will see from the instructions, this recipe is very easy to make and all you need are a couple of bowls and an oven tray in order to do so. All you need to do is mix the dry and wet ingredients separately, then mix them and pour them in a lined (or non-stick) oven tray, then place it in the oven for about half an hour, turning the granola from time to time to make sure it browns evenly, without burning.
The recipe uses very little honey as a sweetener, so as to let the spices shines. I find that, when food is too sweet, the general sweetness tends to overpower the other flavors, so I like to opt for a milder sweet taste. Furthermore, there is also the sweetness of the dates and raisins so, fear not, it is delicious. If you like extra sweet food, you may add a few more spoons of honey, but I encourage you to try it this way first- you may be hooked! Also, if you are vegan, feel free to replace the honey by agave nectar, it works fine as well.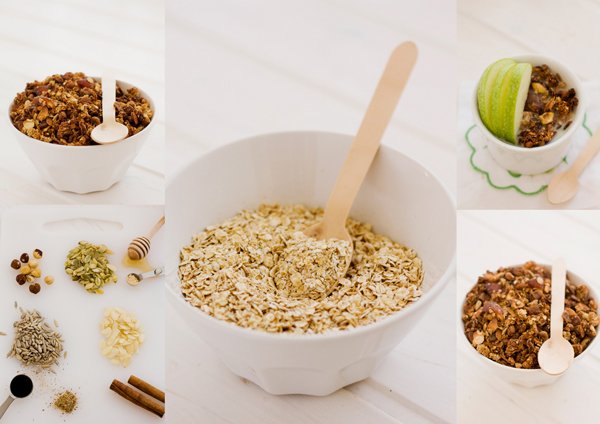 Here's the recipe:
Spiced Granola

Ingredients: 2 cups rolled oats, 1/2 cup sliced almonds, 1/2 cup crushed hazelnuts, 1/4 cup pumpkin seeds, 1/4 cup sunflower seeds, 2 tablespoons oil, 2 tablespoons honey, 6 tablespoons water, 1 tablespoon vanilla extract, 1 teaspoon cinnamon, 1/2 teaspoon ground ginger, 1/4 teaspoon cardamom, 1/3 cup raisins, 1/3 cup medjool dates.

Preparation: 

1- Pre-heat the oven to 200C. Line a baking tray with baking paper and set aside.

2- Put oats, almonds, hazelnuts, pumpkin and sunflower seeds in a bowl and mix.

3- In another bowl, place oil, honey, water, vanilla and spices. Mix well.

4- Add the wet ingredients to the dry ingredients and mix very well, until they are evenly soaked.

5- Pour the mixture on the lined oven tray and extend it evenly. Place the tray in the oven and bake for 20/30 minutes, or until evenly browned. It is very important to remove the tray after the first 10 minutes, and every 5 minutes after that, in order to turn the granola so that it browns evenly. If you just let it sit in the oven for the whole duration, the upper parts will burn! Hazelnuts are particularly sensitive to heat, so keep a close eye on them.

6- Once all granola is golden brown (but not burnt!), remove it from the oven and let it cool down on the counter.

7- Remove the date pits and cut the dates in fours.

8- Add raisins and dates to the granola and store in an airtight container.

9- Serve with milk or yogurt (I like almond milk) and fruit, if so desired.
I hope you like this recipe. Have a wonderful weekend!
Amigos hispanoparlantes: Esta receta es la traducción de la que publiqué, en español, para Petit-On, y que pueden ver haciendo click AQUI.