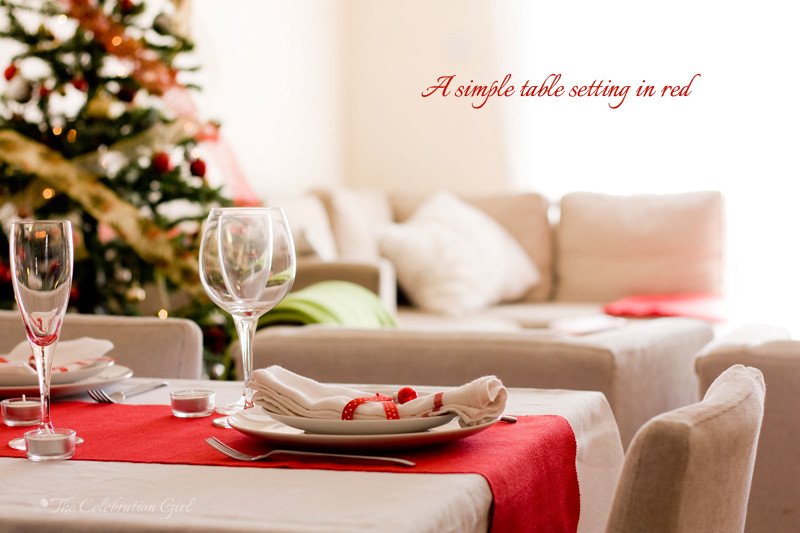 Good morning friends! It's day 5 of the advent and today we will leave the baking and crafting aside for a while,  and start focusing on  ideas to set the table for Christmas.  As I have mentioned before , I like my table settings to be simple, with just a few touches to make my family and guests feel special but without overdoing it, because I don't want anyone to feel stressed over whether they spill some drinks on an expensive tablecloth, or  afraid that a child may break a piece of heirloom china. In fact, we never bought expensive china or silverware because we knew we were not going to give them much use during our children's early years. We believe the time for elaborate table settings may come in the future but, for now, we keep it simple, so that we can all relax and focus on the meal and the conversation.
Today's post is the first of several table setting ideas I will present you during the advent, and they all have three things in common: they use white as a background, they are easy to put together, even at the last minute, and they are easy to reproduce on a tight budget. In order to set the table as I did today, all you need are a white tablecloth and napkins, white plates, glasses, a few candles and the following extras that are the ones that actually transform the table: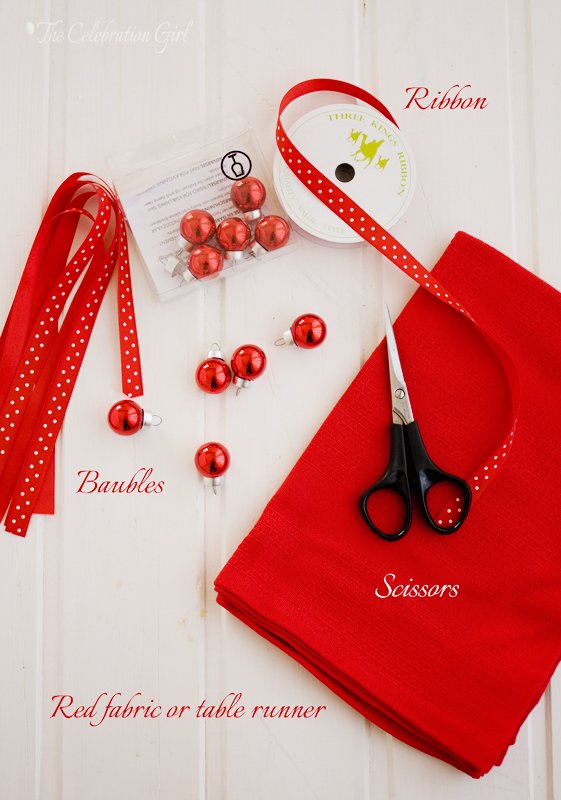 You will probably notice that I don't use flowers or greenery as centerpieces and there are a couple of reasons for that: Some people are allergic to flowers, some others, while not allergic, are bothered by them because they feel that their smell interferes with that of the food, and in some countries they can be very expensive. So, since my goal for this year's advent calendar was to provide you with ideas that anyone can reproduce at home, I skipped them.
I started setting up this table by laying out our white linen tablecloth (which I love) and then placed two red table runners on the center of the table, to cut it horizontally. I could also have put them vertically, to run under the plates, but I felt that they cut the table visually, and made it look smaller. Then I set the plates, I  placed the fork, knife and spoon in the international informal way (with the spoon next to the knife, on the outside) and  I added the wine and champagne glasses.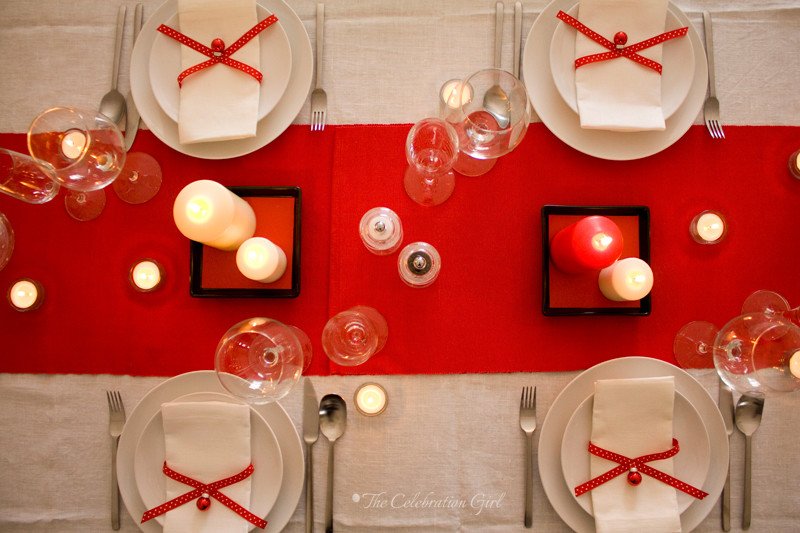 I placed the napkins on top of the plates, and wrapped them in red polka dot ribbon. I did not tie the ribbon, but just crossed the two sides and placed a miniature red bauble on top.  Finally, I added the candles: one votive candle next to each plate and a few more scattered around the table, as well as bigger candles placed in small plates (found in the gardening section of Ikea), lined with red paper. I kept the touches of red small, as you can see,  because it can be quite a dominant color, and I didn't put many more candles because I wanted to leave space for placing the trays with the food, without having to alter the whole decoration.
Now I would like to know, how do you like to set up your table for the holidays? What colors do you use? Please, share!
Con sabor latino…

Buenos días queridos amigos! Es el 5to día del adviento, y hoy les propongo dejar de lado manualidades y cocina y ponernos a pensar en cómo pondremos la mesa en Navidad.  Como he mencionado en otras ocasiones, prefiero que mis mesas sean sencillas, con sólo un par de detalles que hagan que mi familia y amigos se sientan especiales pero sin sobrepasarme, porque no quiero que nadie esté estresado acerca del vino que puede haberse volcado sobre el mantel carísimo, o preocupado porque un niño pueda romper un plato de porcelana heredado de la bisabuela. Nosotros no tenemos juego de porcelana ni cubiertos de plata porque yo estaba embarazada cuando estábamos comprando las cosas para nuestra casa, y sabíamos que iban a pasar varios años antes de poner usarlos sin preocupación, y queríamos (y queremos) poder relajarnos y disfrutar de los momentos especiales con la familia sin nervios. El tiempo de las mesas

elaboradas llegará en un futuro pero, por ahora, preferimos mantener nuestras mesas simples y sencillas, y concentrarnos en la comida y en la conversación.

El post de hoy no será el único de este estilo, porque en este adviento quiero que tengan muchas ideas que puedan adaptar a lo que tengan en casa, a su gusto y a su estilo.  Todas las mesas tiene  tres cosas en común: usan el color blanco como base, son fáciles de preparar, incluso a último minuto, y pueden reproducirse con un presupuesto limitado. Para poner la mesa como yo lo hice hoy, sólo necesitan: un mantel blanco, vajilla blanca, copas (las que tengan, mis platos y mis copas son de Ikea), velas, camino/s de mesa o tela roja de 50 cms de ancho y del largo de la mesa o superior (yo coloqué dos caminos, uno al lado del otro), cinta roja y mini ornamentos navideños, tambien rojos (los míos son tambien de Ikea).

Seguramente habrán notado que no suelo usar flores ni plantas en mis centros de mesa, y hay varios motivos para ello:  Son preciosas y quedan divinas pero mucha gente es alergica,  hay otros a quienes éstas les molestan porque consideran que su perfume interfiere con los aromas de la comida y les quita el apetito o los hace sentir mal y, finalmente, en algunos paises son carísimas.  Así que, como mi objetivo para este calendario de adviento, es brindar ideas que puedan ser puestas en práctica por todo el que así lo desee, decidí omitirlas.

Al preparar esta mesa, empecé por los básicos: puse el mantel de lino blanco sobre la misma, y luego coloqué dos caminos de mesa, uno al lado del otro, cortando la mesa de manera horizontal. Podría haberlos colocado verticalmente, para que quedaran debajo de los platos, pero decidí no hacerlo porque me daba la sensación que cortaban visualmente la mesa, haciendola verse más chica. Luego coloqué los platos,  dispuse los cubiertos conforme al sistema informal internacional (con la cuchara a la derecha, al lado del cuchillo, del lado de afuera) y agregué copas de vino y de champagne. Coloqué las servilletas sobre los platos y las envolví en la cinta roja, sin atarlas ( simplemente cruzando los extremos) y coloqué un pequeño ornamento rojo en el cruce. Finalmente, agregué una velita al lado de cada plato y algunas mas distribuidas alrededor de la mesa, así como también velas más grandes colocadas sobre platos pequeños (de la sección de jardinería de ikea), cuya base cubrí con papel rojo. Como pueden ver, este color está  presente sólo en algunos detalles porque puede llegar a ser muy dominante, y la mesa no está repleta de velas porque quise dejar espacio para colocar las bandejas de comida sin tener que modificar toda la decoración al hacerlo.

Ahora cuentenme ¿cómo suelen decorar la mesa para navidad? ¿qué colores prefieren? Cuentenme, que soy curiosa!