Good morning dear friends, and Happy New Year!!!
How are today? How were your celebrations? I hope you all had a really great time and that you started 2012 in the happiest of ways.
Today, as first post of the new year, I wanted to show you the Christmas table I prepared for our children. Since they are still very young, we do not do big celebrations on Christmas' eve, but rather, we celebrate on the 25th, together with the opening of presents.
This year, I had an "Amy Atlas moment"  and decided to prepare a few special treats to surprise Luka and Zoe for breakfast, together with a decorated table, with backdrop and all. It was really fun to do it! I baked and decorated everything at night for a week, and hid all treats in our study room for the kids not to suspect anything. On the 24th, we set up all decorations and we left the table ready for Luka and Zoe to find it when they woke up. They were so happy!
The inspiration for the table came from a set of window stickers that we brought from Argentina, which featured Santa Claus and its reindeers, and with which the kids had been playing since we had arrived back to Cyprus ( they didn't survive, so I have no photos of them!). Around the time when I was preparing the treats, I also saw a BEAUTIFUL set of Free party printables from Bird's Party, offered at Catch My Party, featuring a super cute Rudolph reindeer, so I decided to use them, and to adjust the colours of the reindeers to match them. I also used the printables for the backdrop:  I made several red and green paper fans in different sizes, glued the party circles to them, and attached them to a frame that I already had.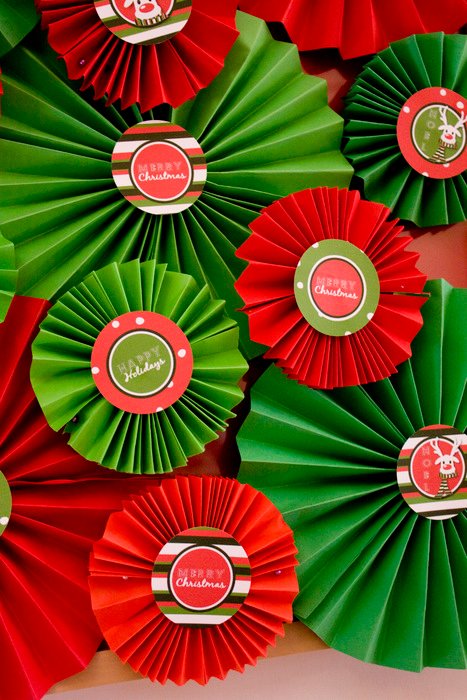 The desserts themselves aimed at reflecting us, as a multicultural family, and at incorporating flavours from our different traditions. There was Pandoro, which is common in Argentina and Italy  (store-bought), gingerbread cookies (in the shape of Santa Claus and Rudolph's faces), gingerbread houses (the flavour of which reminds my husband of his own childhood in Kosovo), kourambiedes and melomakarona (from Greek Cyprus, where we live), as well as chocolate cookies in the shape of holly and of a Christmas wreath, "Rudolph" cake pops and vanilla bean macarons with chocolate hazelnut cream.  For drinks, we served hot chocolate, and coffee for the adults.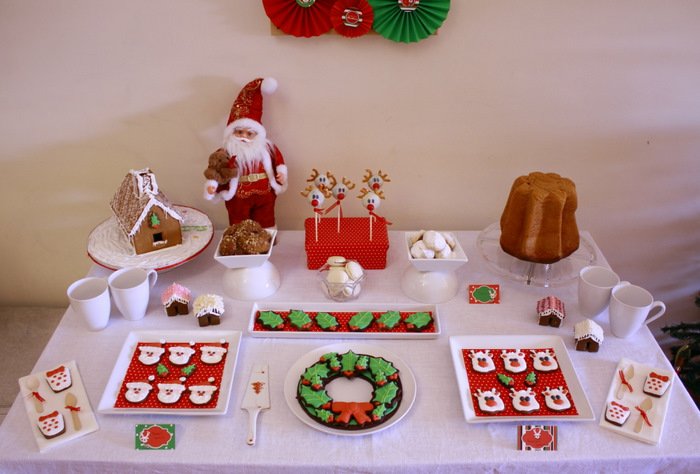 I made all cookies (including the cookie wreath) using the gingerbread cookies and chocolate rolled cookies recipes from Glory, of Glorious Treats, and 2 sets of Wilton cookie cutters. For the macarons, I used the recipe and the method I shared inhere, and I made the mini-gingerbread houses according to the templates and instructions shared on the blog Not Martha. For glueing the gingerbread houses , I used Sweetopia's recipe for Royal Icing, which I then thinned to decorate the cookies. I LOVE that recipe, it worked really beautifully.
Here are a few more pictures of the details: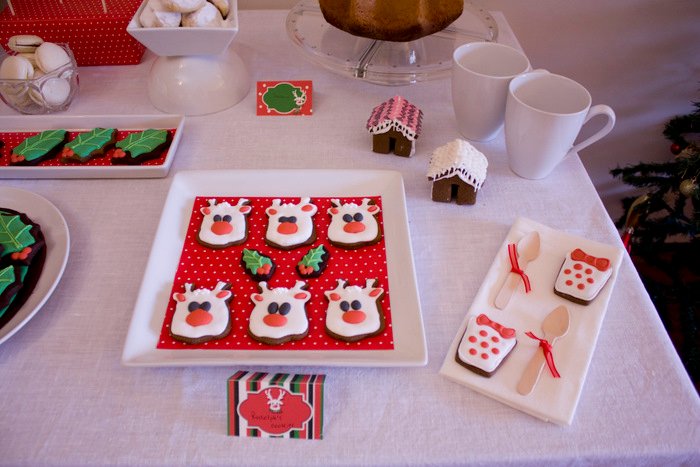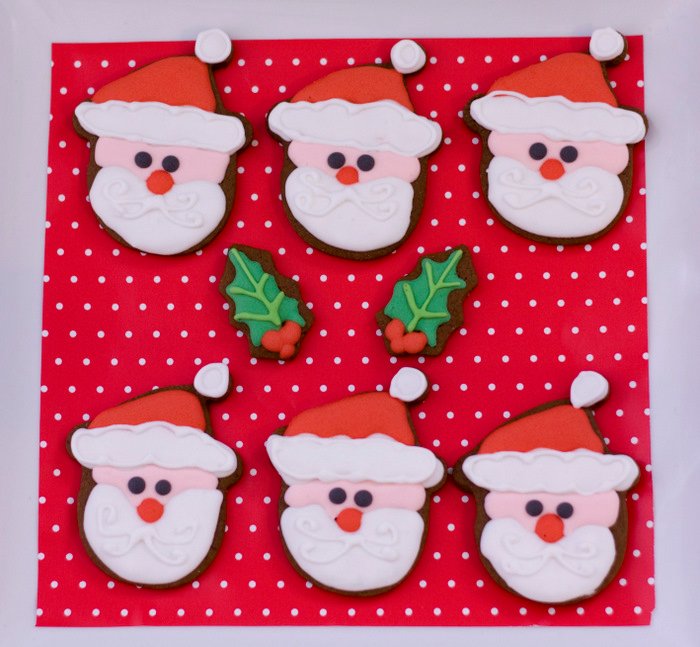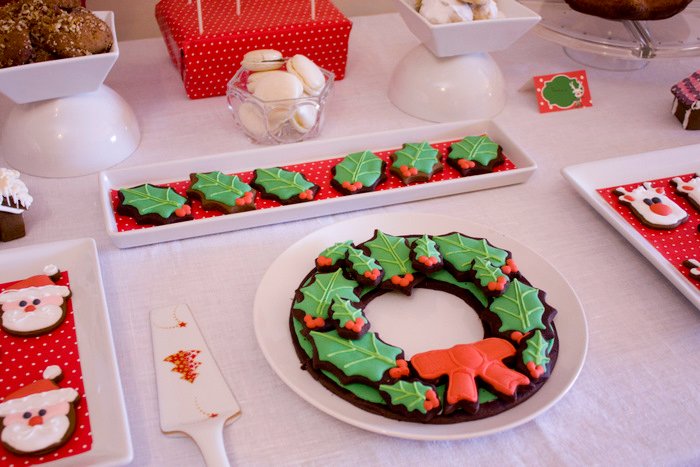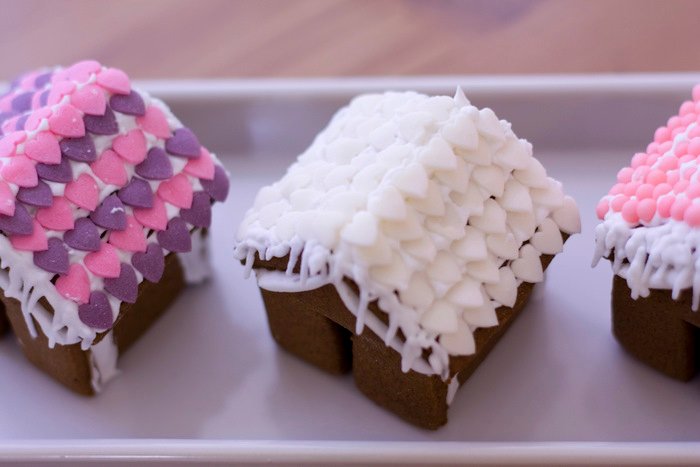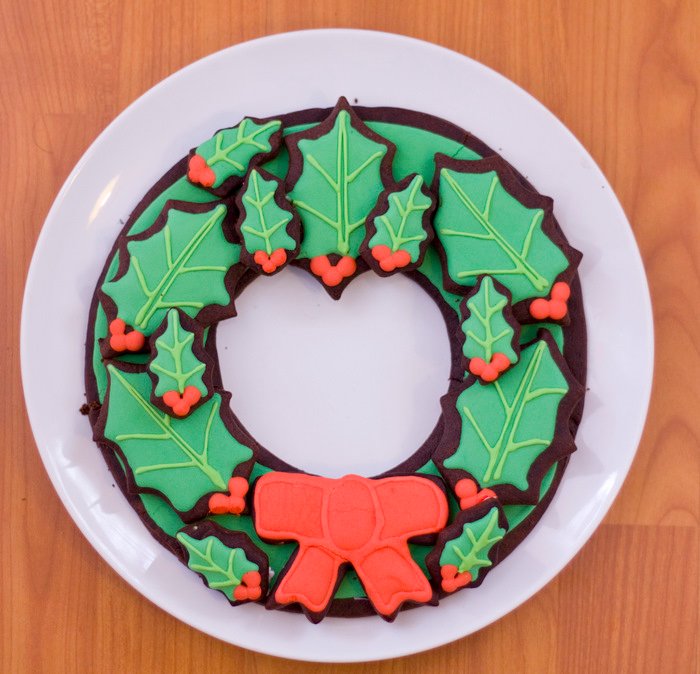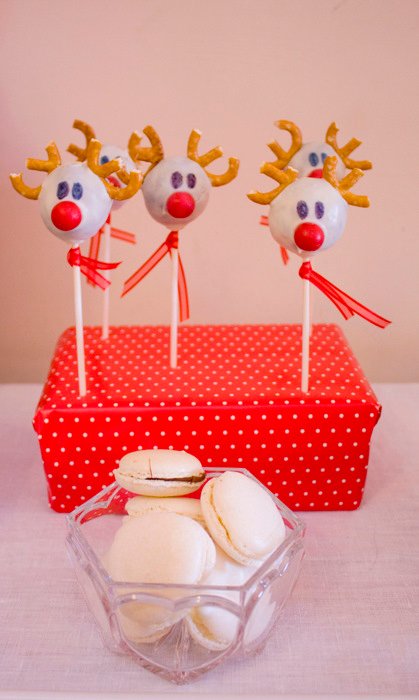 And here is how the dessert table looked next to our Christmas Tree, in our living room: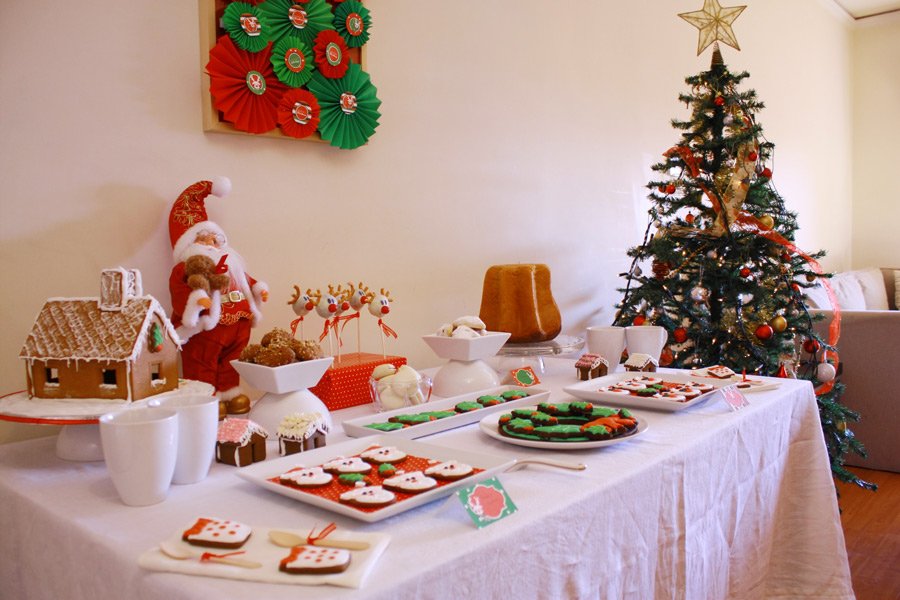 I hope you like it!
Have a wonderful week!