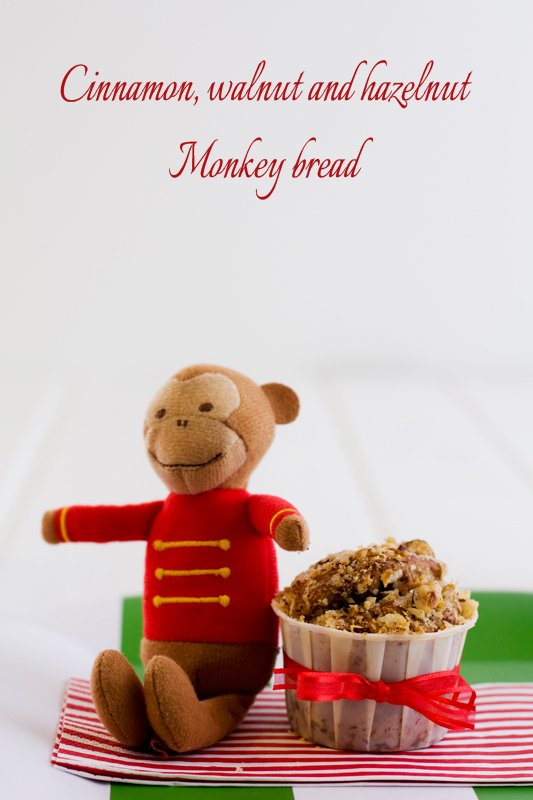 Good afternoon dear friends! I'm sorry for not publishing this post earlier, this month has been completely hectic and this week, even more so. But here I am, catching up as fast as I can to bring you all advent posts in time, to help  you with your Christmas preparations!
Today's post was prepared for my monthly contribution to Petit-on, where it appeared today. December's chosen ingredient had been cinnamon, so I prepared a delicious Monkey Bread, adapted from a recipe that I saw Maru Botana prepare on TV many years ago. I scribbled the ingredients and a few instructions and made up for the rest the best I could. It turned out so good that I prepared it every year since then, in place of the more traditional "Pan Dulce" (which I never really liked).
I had planned to prepare this recipe a few weeks ago, but one thing or the other prevented me from doing it. Luka and Zoe had been sick on and off all month (minor things, but staying at home nonetheless) and, while I normally do cook with my children, I rarely photograph food with them…for the sake of the photography equipment.
This time, however, time was running out, so I decided to give it a try. I started by preparing the dough with Luka as my assistant, who is actually very good at cooking and enjoys carefully measuring ingredients with me. His assistance, however, was intermittent, because they were showing Madagascar on TV so he kept running to the living room and back whenever he could hear a favorite scene. Zoe arrived from school when it was time to add the nuts, and the minute she saw the hazelnuts, she picked the whole jar and left saying "the mouse found a nut in the deep dark wood". Fortunately, I managed to get just enough to finish the dish! Taking the pictures, as you can imagine, was another odyssey!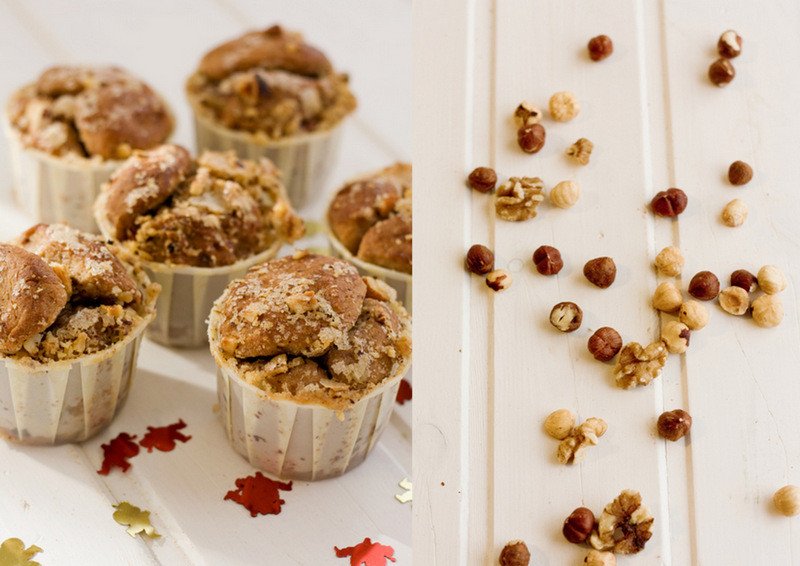 In this occasion, I baked this Monkey bread in muffin cases because I was planning to give them as gifts. I also like to do mini versions for placing in kid's tables, just on top of their plates. I have found that children love mini desserts and are more likely to try anything that comes in a pretty packaging! If you prefer to bake it in the traditional way, I personally prefer spring form pans, because it keeps the shape better when served.
A couple of extra observations: the recipe uses butter and cow's milk, but you can replace them by margarine and vegetable milk. Also, I used walnuts and walnuts, but almonds are also delicious. If you want to make it for someone who has a nut allergy, try replacing the nuts by raisins!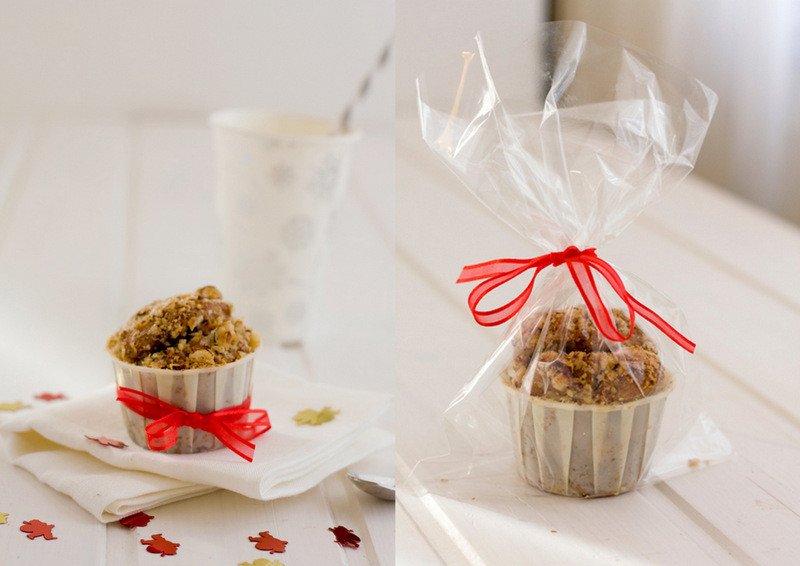 Here's the recipe
Cinnamon, Walnuts and hazelnuts Monkey bread (adapted from Maru Botana's recipe for Todo Dulce) Makes 16 mini breads.

Ingredients:

For the yeast: 30 grs fresh yeast, 1/2 tsp sugar, 1/3 cup warm water

For the bread: 1 cup milk, 160grs butter, 2 tbsp vanilla extract, 5 tbsp cinnamon,  2 eggs, 2 egg yolks, 5 1/2 cups all purpose flour, 2 cups assorted nuts or raisins, 180 grs melted butter, 1 cup sugar, 2 tbsp cinnamon.

For the glaze: 1 cup icing sugar, 1 tbsp cinnamon, warm water (as needed)

Preparation:

1) Put yeast, water and sugar in a bowl and let it ferment (approximately 5 minutes). Do not mix or touch it at all.

2)  Put milk in a heat proof pan and bring it to the boil.  Remove from heat and add butter. Let the butter dissolve.

3) Add cinnamon, vanilla and sugar to the milk. Stir to mix well.

4) Beat the eggs  in separate bowl and add them to the milk, one by one, whisking so that no lumps are created.

 5) Add 1/2 cup of flour and yeast. Mix well.

6) Add the rest of the flour and mix well, until the dough separates from the bowl.

7) Sprinkle flour on the countertop and put the bread on top. Knead it for 10 minutes, wrapping it on the flour.

8) Pour warm water on a bowl and dry it. This will heat the bowl, helping the bread rise. Put the dough in the bowl, cover and let it sit for a 1/2 hour, until it doubles in size.

9) Remove the bread from the bowl, tap it a couple of times against the countertop so remove air and knead again for a couple of minutes.

10) Divide the dough in two pieces and form two sausages with them. Cut small pieces of dough with your index and thumb and make small balls with them.

11)  Mix the remaining melted butter, sugar and cinnamon in a bowl. Process the nuts, or chop them with a knife and put them in a separate bowl.

12) Pass the bowl by the butter mixture and then toss them in the bowl with nuts. Repeat with all the balls of dough.

13) Put the balls in a springform cake pan or in muffin cases. I could fit 4 small balls per muffin case and bake at 175 C. If you are baking one big bread, you will need to bake it for 45/50 minutes. This time is reduced to 20/30 minutes if you make mini breads, as I did. Once they are slightly golden on top, remove from the oven and let it/them cool.

14) Prepare a glaze with the sugar, cinnamon and a little bit of warm water (I used one tablespoon). Pour it on top of the bread using a spoon, if desired.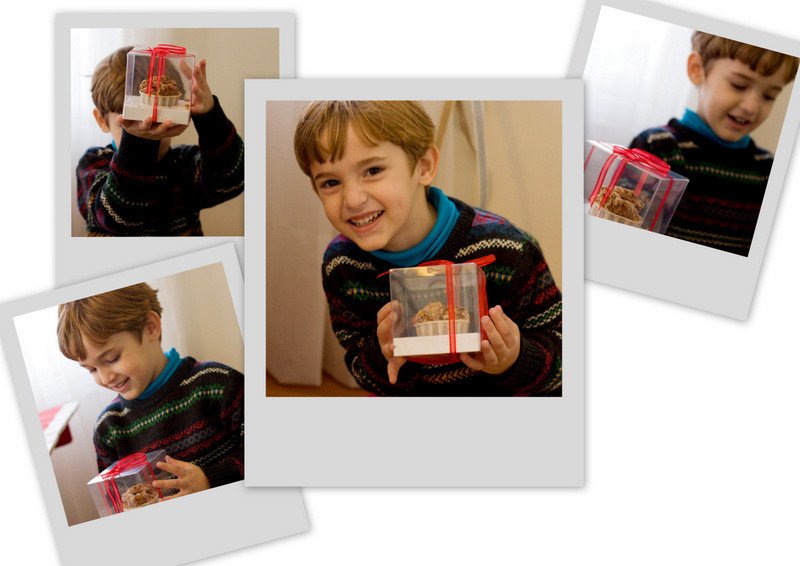 Amigos hispanoparlantes, pueden leer la receta en castellano AQUI.