How I create [Calling the Muse]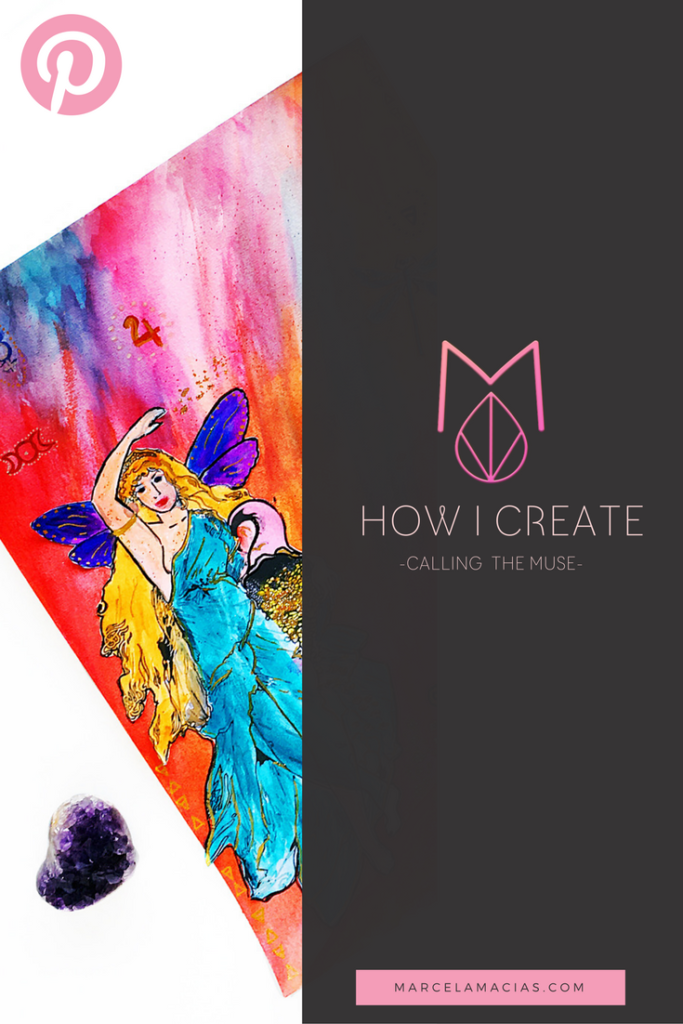 Have you ever wondered how people do what they do? How bakers create their cakes, how designers come up with gorgeous logos, how photographers photograph? And no, I don't mean backstage footage or photos (which is also fascinating).
I mean what comes before: the process that leads to an idea being born.
The rituals that help us conjure the inspiration, call in the Muse.
I've shown backstage videos and photos of my work and I've created step by step tutorials many times too. But I've never talked openly about the process that leads to my photos being a certain way.
A part of it is science: I know about color theory, design principles and I know my camera well enough to make it do what I want it to do.
But the crucial part, I must confess,  is magic.
Not the magic of card tricks or flying wizards, I haven't joined Howgarts yet (the damn owl refuses to bring me a letter).
The magic of calling in and opening myself to the creative energy and allowing it to show me the way.
I have a series of rituals that help me be in the right mood for creating, and today I wanted to share with you one of them: Creating my amulet mixed art painting.
I learnt this process from Jo Klima's beautiful course AMULET and it has been a fantastic way to let go of blank photo card paralysis (like white page paralysis, but for photographers). And since then, whenever the fear of starting a new project settles in, I know I can exorcise it with a bit of paint.
The process is simple, and highly intuitive and it seeks to create an anchor, a reminder of our intention. To declare our openness to divine inspiration and divine guidance. To call in the energies we want to play with, intentionally and consciously.
It's not about knowing how to begin a project, it's about feeling our way into it, one brush stroke at a time- which is why it works so beautifully. It shuts down the mind, and opens the heart.
It starts with a paint and paper and dirty hands…
It continues with glue, and glitter, mantra music and marker pens…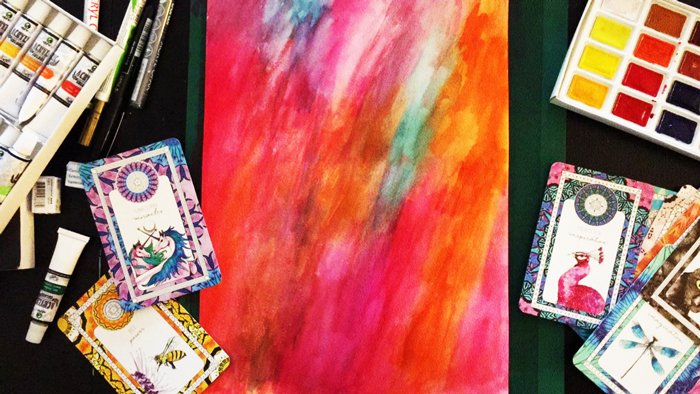 And by the time I'm done, resistance is gone and taking the next steps of a new project are easier, because it feels like I've already begun. 
The painting above marked the beginning of a project I've been dreaming about for some time and that I'll be birthing into the world in the next few weeks.
I used red, orange and turquoise to call in creativity, passion and free-flowing communication. I called in the energy of Goddess Fortuna, so it'll prosper and the help of the dragonfly, to connect me with the best ideas within me. I called on the Earth to anchor this project into reality, Fire, to bring it to completion, and the Moon, to imbue it with divine feminine essence. I called on Mars for strength and courage and Jupiter for blessings.
I saged the room before beginning, lit a candle to illuminate the way, and played one of my favorite mantras while I painted.
I'll tell you more about this project and the rest of my creativity conjuring rituals in my next blog posts.
And now, let me know: how do you create? 

Want photos that look like you- and no one else?